With St. Patrick's day coming, it made me think about foods we would enjoy this time of year. One of those foods is these easy potato pancakes with chives and parsley.
These potato pancakes are easy to make and delicious too. Eat them alongside a main dish for a change from regular mashed potatoes.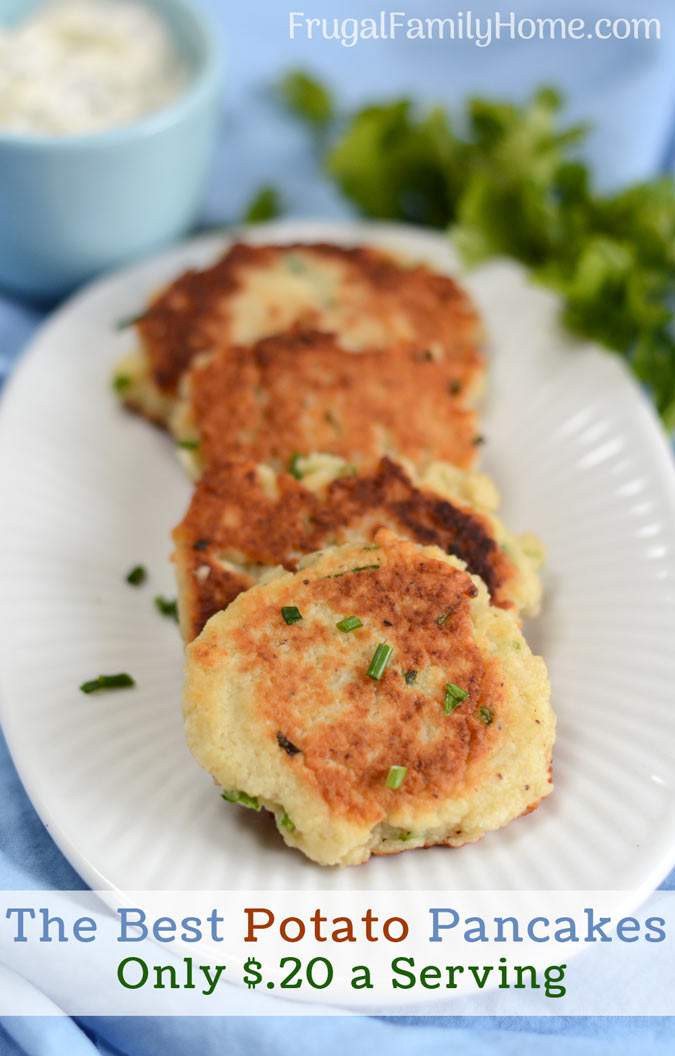 My grandma used to make potato pancakes for us when we had leftover mashed potatoes. Her potato pancakes were creamy on the inside and crisp on the outside. But mine never turned out right.
She also used to make potato pancakes from scratch with shredded potatoes. A lot like hash browns and mashed potato pancakes combined.
This time around I didn't have leftover mashed potatoes, and I didn't feel like shredding the potatoes. So instead I ran them through the food processor with half an onion. I added the onion to add more flavor.
Then I proceeded with the recipe like my grandma would have made it but with pureed and drained potatoes and onions. I added chive and parsley I had growing in the garden too.
It made for a delicious yummy potato pancake with chives and parsley.
Ingredients Needed for Easy Potato Pancakes with Chives and Parsley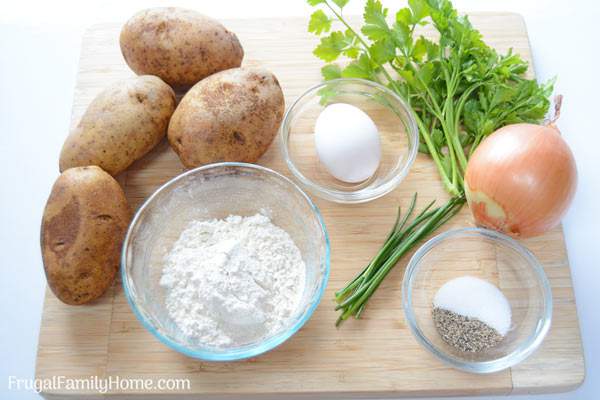 You need only 5 ingredients to make these easy potato pancakes, throw in the two optional ingredients of chives and parsley if you have them on hand to boost the flavor. But if you don't have the chives and parsley just add more salt and pepper to taste. Or maybe a little sharp cheddar cheese.
Potatoes
Onion
Flour
Egg
Salt and Pepper
Chives (optional but yummy) Use dried if you don't have fresh
Parsley (optional but yummy) Use dried if you don't have fresh
How to Make this Easy Potato Pancakes with Chives and Parsley Recipe
I made a quick video to show you how to make these quick and easy potato pancakes. If watching videos aren't for you, no judgement here, scroll down for the printable recipe and tips.
Easy Potato Pancake Recipe Tips
These tips can help to make sure these potato pancakes turn out crispy on the outside and soft and flavorful on the inside.
Use Russet Potatoes, I like to use russet potatoes. Russet potatoes cook up well in this recipe; they are less waxy than some other potatoes.
Russets also are a little drier too. Use them if you have them. You can also use Yukon Gold potatoes. But if you have russets, they are the best choice for potato pancakes.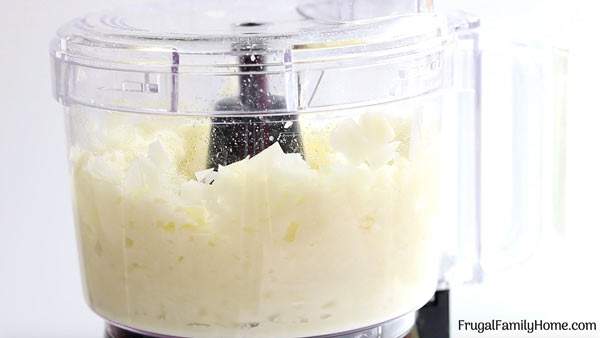 Use a food processor or blender to puree the onions and potatoes. Make sure to scrape down the sides of the food processor halfway through.
Strain the Onions and Potatoes well. I like to place my potato and onion mixture into a dish towel and squeeze the extra water out. Getting the fluid out first helps the potato pancakes to hold together better and you'll need less flour.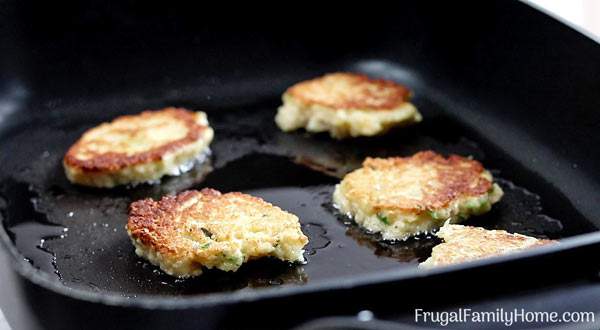 Heat the pan first. Be sure to heat the pan and add oil before adding the potato pancakes to the pan. If it's warmed first, the potato pancakes will crisp up nicely.
Drain the potato pancakes on paper towels after they are finished cooking. This will help to remove any extra oil from the pancakes.
Serve sprinkled with extra chives and parsley if desired. You can serve them with sour cream too.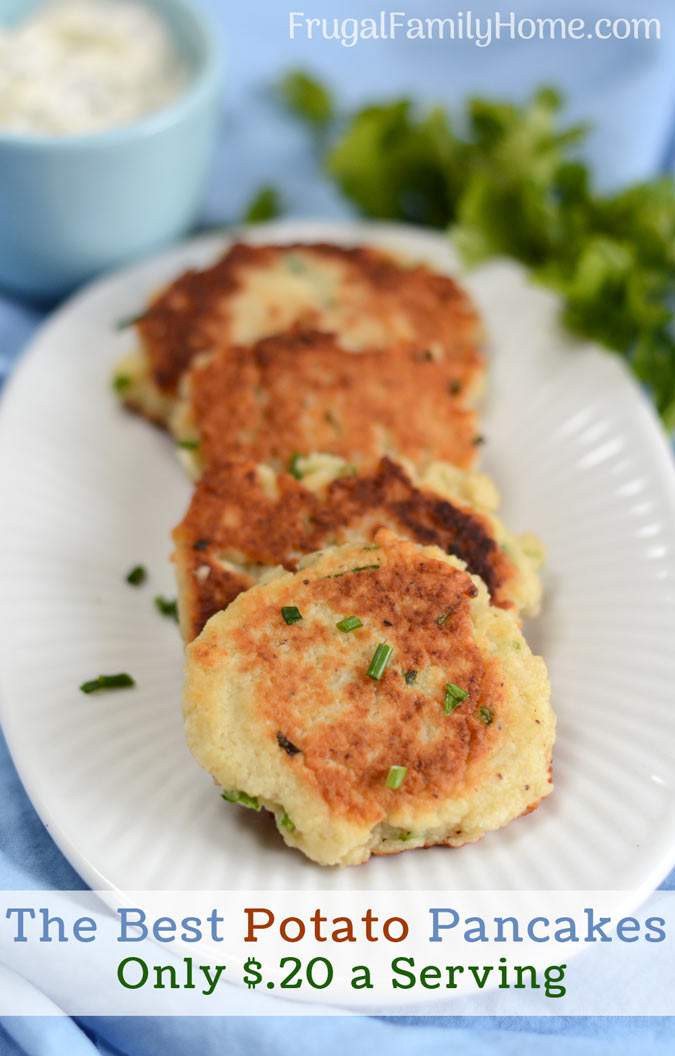 Easy Potato Pancakes with Chives and Parsley
Ingredients
4

Potatoes

1/2

cup

Onion

1/3

cup

Flour

1

Egg

1

teaspoon

Salt

1/2

teaspoon

Pepper

1

teaspoon

Fresh Chives

chopped (optional)

1

tablespoon

Fresh Parsley

chopped (optional)
Instructions
Add the potato and the onion to the food processor. Process until smooth.

Drain the extra liquid off the potato and onions by straining the puree.

Place the strained potatoes and onions into a bowl. Add the flour, egg, salt, pepper, chives, and parsley.

Stir to mix well.

Heat a skillet over medium high to high heat. Add 1 tablespoon of oil to the skillet.

Drop the potato pancake batter in the hot oiled skillet by the tablespoonful.

Cook on one side until brown, flip and cook until golden on the other side.

Place cooked potato pancake on a paper towel lined plate to drain.

Serve sprinkled with more chive and parsley if desired.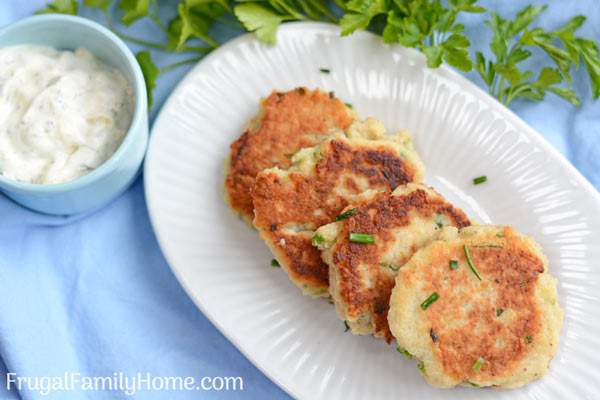 How Much Does it Cost to Make Easy Potato Pancakes?
These potato pancakes make a great side dish. And they are inexpensive to make too. Not as cheap as rice but pretty close.
I used parsley and chives out of the garden when I made ours but those two ingredients are optional. You can use dried chives and parsley if the fresh herbs are more expensive.
Potatoes $.30 at $1.99 per 10 pounds
Onion $.10 at $1.99 for 15 pounds
Flour $..04 at $3.96 for $10 pounds
Egg $.10 at $1.20 per dozen
Herbs and Seasoning $.20
Oil $.10
That brings the cost of this recipe to $.84 for the whole batch. Or just $.21 per serving with two potato cakes per person. If you purchase the fresh parsley and chives, the price will be a little more per person. But you can keep the cost lower by using dried chives and parsley.
What's your favorite dipping sauce for potato pancakes?
More Cheap and Easy Side Dishes
The Best Macaroni Salad
Homemade Coleslaw
Homemade Baked Fries
Pin it for Later…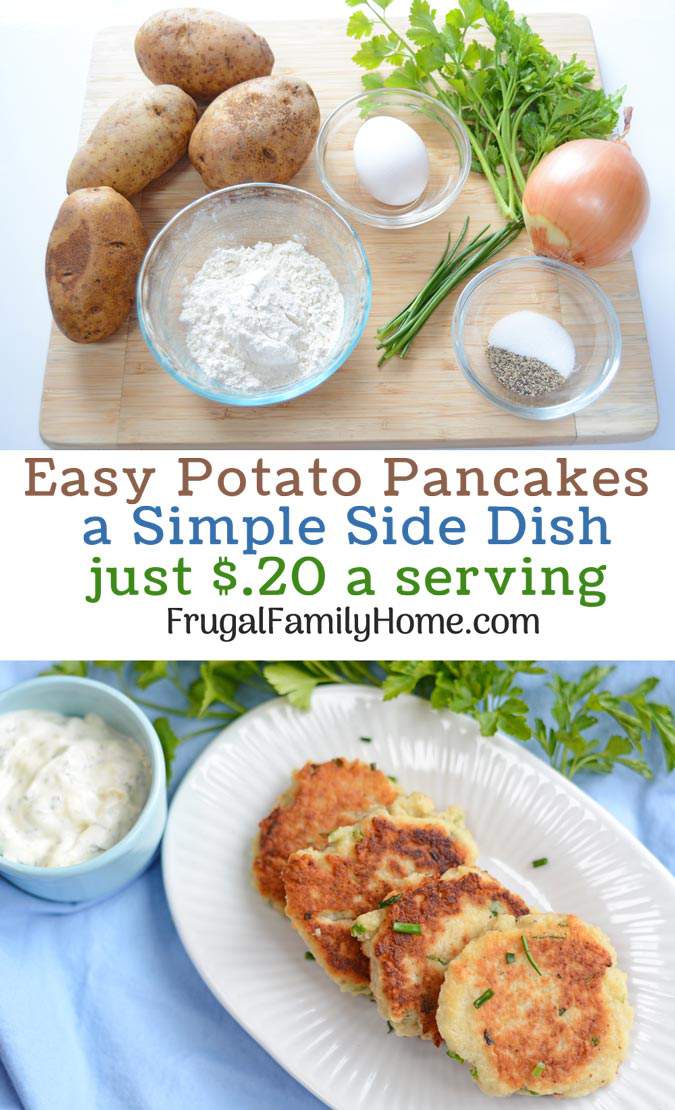 SaveSave
Subscribe and you'll get Recipes
sent right to your inbox!
Click the button below and fill out the form.