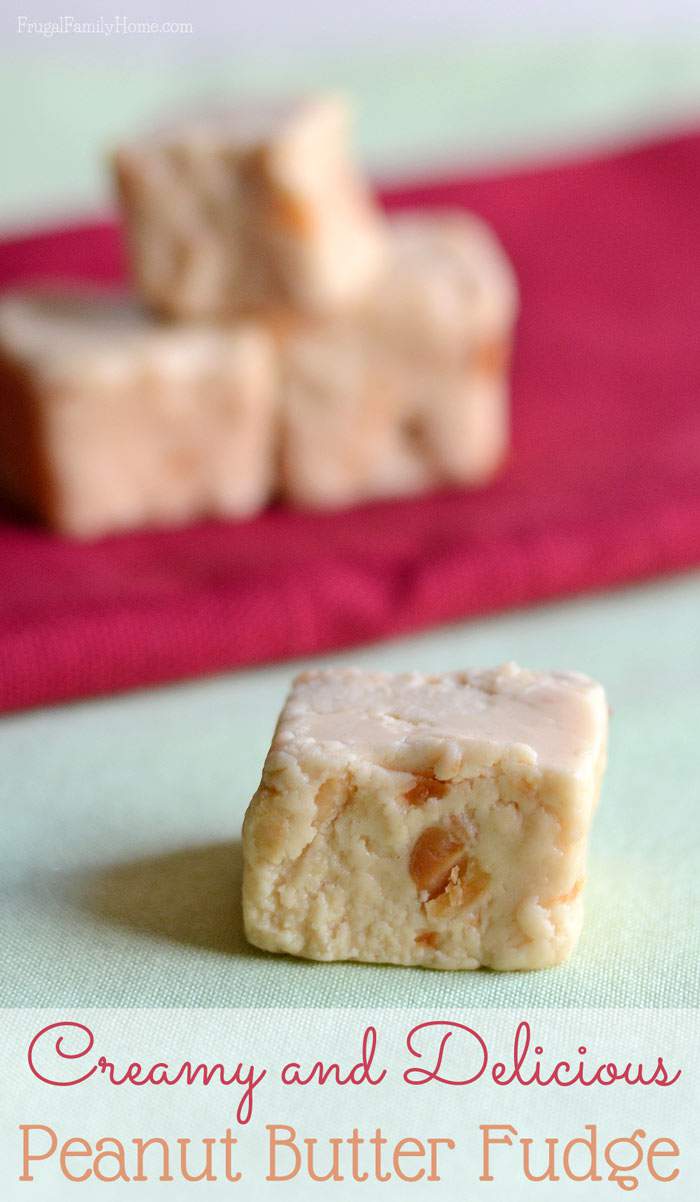 This recipe is one my mom, grandma, and great-grandma used to make each year at Christmas time. This peanut butter fudge recipe is really creamy and has a great peanut butter flavor, but no chocolate at all. I've seen many peanut butter fudge recipes that are really peanut butter and chocolate, but this peanut butter fudge recipe is all peanut butter.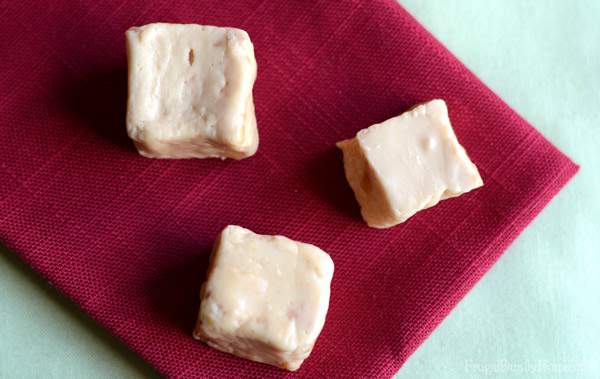 Making this fudge does take a candy thermometer to make but it's not difficult at all to make. It makes a really nice creamy fudge, so yummy and delicious. If you have never tried to make fudge try this recipe. It's a little more complex than the frosting fudge recipes, but I love the flavor and consistency of it. I always use extra chunky peanut butter, so there're lots of peanut pieces in the fudge.
Here's the printable recipe for you,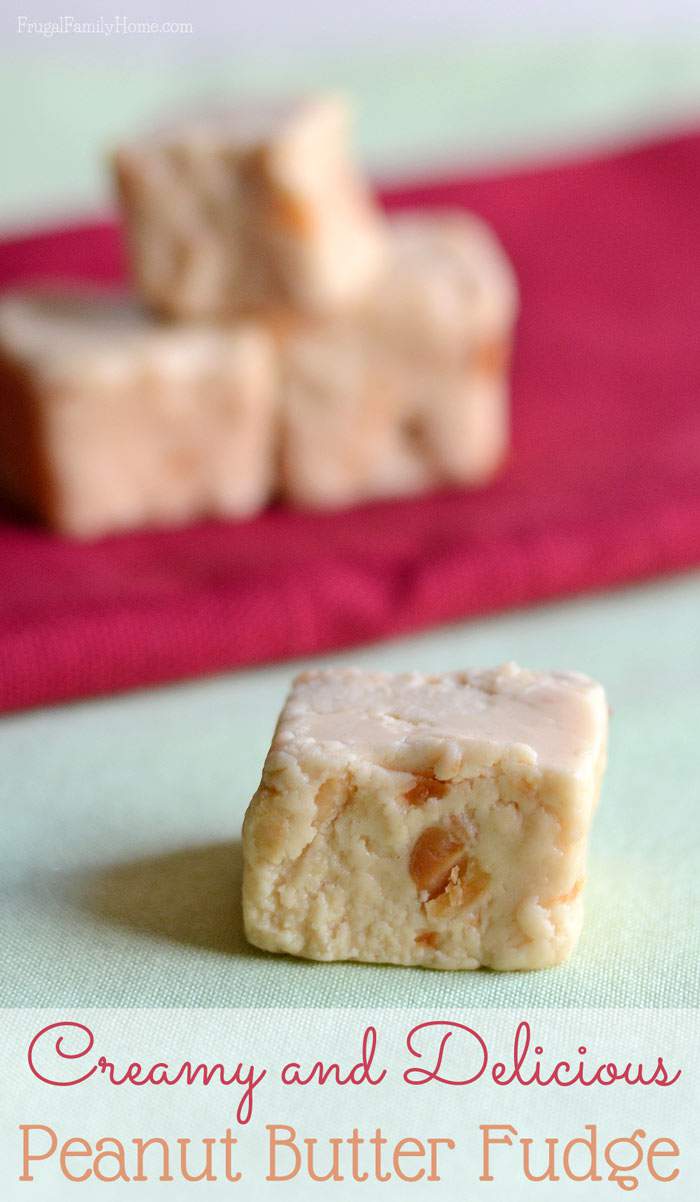 Peanut Butter Fudge
A creamy and delicious fudge for those who don't like chocolate. So good. This is the perfect fudge for people who don't like chocolate.
Ingredients
3

cups

Sugar

3/4

cup

Evaporated Milk

1

cup

Peanut Butter

1

small jar

7-8 oz Marshmallow Cream

1

teaspoon

Vanilla
Instructions
Mix the sugar and evaporated milk in the saucepan.

Bring milk mixture to a boil. Boil stirring constantly until it reaches the soft ball stage 235 degrees.

Remove from heat and stir in peanut butter, marshmallow cream and vanilla. Stir until well blended.

Spread into a 9 by 13 inch greased pan and let cool.

Once set cut into serving sized pieces.
Nutrition
Serving:
1
square
Calories:
65
kcal
Tips for Making this Peanut Butter Fudge Recipe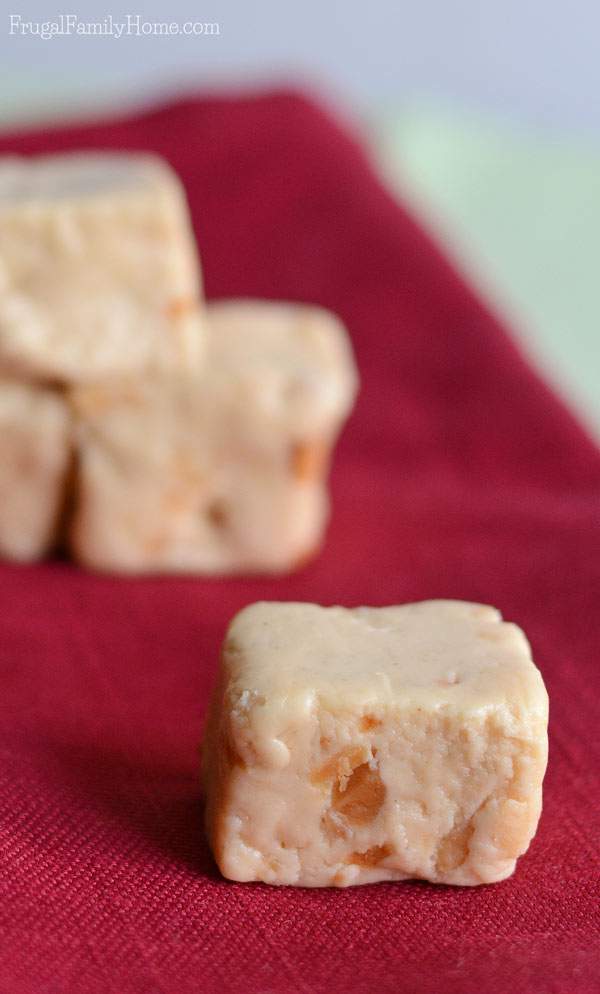 Getting the milk, sugar, and butter mixture to the soft ball stage (235 degrees)  is the key to having this fudge turn out great. If the milk mixture doesn't reach the soft ball stage the fudge may turn out runny. If you go too far past the soft ball stage then the fudge can get brittle. If you don't have a candy thermometer you can watch the video below to see how to test for soft ball stage by using a dish of cold water.
Once the milk, sugar, and butter have been boiled to the soft ball stage then it's time to add the marshmallow cream and peanut butter. It's important to really mix them in so you don't have any streaking in the fudge. Just keep mixing until you no longer see any chunks of the marshmallow cream.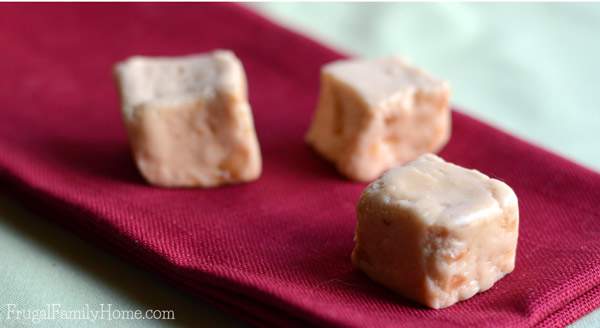 How to Make This Peanut Butter Fudge Recipe Dairy Free
If you need to eat dairy free you can use this evaporated milk recipe made from coconut milk instead of the regular evaporated milk. I've also made this recipe with just regular soy milk and it turned out great. I use dairy free margarine, we like the Nucoa brand margarine sticks for baking. When using the dairy-free products the fudge still turns out great it's just dairy free.
What is your favorite homemade candy?
Read more posts in this 31 days of Homemade Sweet Treats series.
Subscribe and you'll get Recipes
sent right to your inbox!
Click the button below and fill out the form.