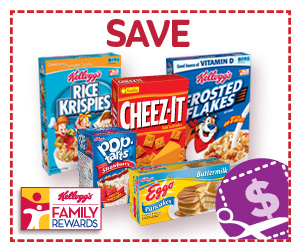 Sign up for Kellogg's Family Rewards
Have you heard of Kellogg's Family Rewards? You can sign up for free.
How it works
1) Look for 16-digit codes printed inside specially marked Kellogg's® cereals, Eggo® products, Pop-Tarts® toaster pastries, Cheez-It® crackers and Keebler® cookies and crackers.
2) Enter codes and earn points at KelloggsFamilyRewards.com. If you're not a Kellogg's Family Rewards™ member, it's free and easy to sign up.
3) Collect and redeem points for fun items in our rewards catalog.
When you read the "How it Works" page after you sign up, you can earn 20 points, then you can use the code below to earn 50 points more.
2013KFRBonusCode

Go Kellogg's Family Rewards to sign up
Disclosure: This post contains my referral links