Is it hot where you live? It's been hot and muggy here. They say by mid week we might be over a hundred and stay that warm through the weekend. That is just way to hot for me. I've been watering every other day to keep the garden watered. With the hot weather has come a little wind each day, which can really dry out the garden fast.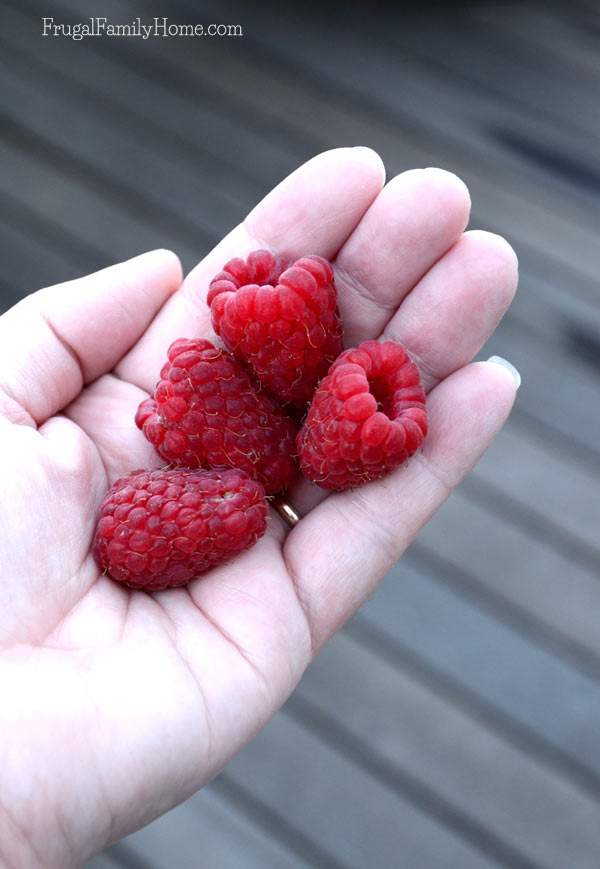 Our raspberries are slowing down. It seems like we are about 1 month ahead of normal schedule for things  in the garden. I usually go berry picking with a friend each year around the 4th of July for raspberries. I'm thinking we might be a little too late this year, but I hope not. The photo above is of the nice big raspberries we picked last year.
This week we picked our first three cherry tomatoes, a couple of cucumbers and probably the last of our peas. I'm sure the hot weather will finally do them in.
We had some great links shared last week. If you missed them be sure to click over to check them out. Then come back and share your own gardening wisdom with us. If you don't have a blog link to share, you can still let us know how your garden is doing, by leaving me a comment below.
An Oregon Cottage: Facebook | Pinterest | Instagram | Twitter | Google+
Frugal Family Home: Facebook|Pinterest|Instagram|Twitter|Google+
Simplify Live Love: Facebook|Pinterest|Instagram|Twitter|Google+
Thank you  for sharing all your gardening progress, wisdom and inspiration with us each week! When you link your post here it will automatically be seen on all Four blogs – all you have to do is link to ONE of our sites. Feel free to follow our Tuesday Garden Party Pinterest board where you may get a sneak peak of our weekly favorites and features, and search and follow #TuesdayGardenParty on any of your social media!
From this week's host, Michelle of SimplifyLiveLove:
Happy Tuesday, my lovely gardening friends, and hello from wet Eastern Iowa. I'm not sure how the weather has been in your area, but out here in the Midwest, we are literally swimming. We've had so much rain the last few weeks, and there's more in the forecast. A few short weeks ago I was hoping for a little rain, and well, we sure did get it. Now it can stop! Fields are flooded, creeks and rivers are flooded, cars are caked in mud. The farmer's fields aren't happy at all. My garden doesn't seem to mind too much except my tomatoes. While they look okay, they don't look great. They haven't grown very big yet, I haven't found many baby tomatoes, and they just look a little droopy. While I don't much like the hot weather we normally have this time of year, my tomatoes would really appreciate a few hot, rain-free days. But I think I better be careful what I wish for our we will head straight for a drought.
In other gardening news, I finally finished my homemade tomato cages. I don't know about you, but I have had it with the wimpy store-bought cages that last half a season at best. I've tried lots of ways to secure my tomatoes: stakes, hog panels, fencing. None of them worked well for me.
Last year, my dad showed me an easy way to make strong cages that will last for many seasons and I finally finished them last week. If you're curious, you can find the tutorial here. Sadly, my lettuce and spinach are done. But I have several beautiful heads of Chinese Cabbage to harvest, the fresh peas taste fabulous, and my garlic is about ready to harvest! I'm pretty happy with my garden so far this year. I hope your gardens are making you just as happy!
This week's featured posts:
I really loved Minnie's Milestones concrete leaf post. I made something very similar out of clay when I was a little girl in pottery lessons in Germany.
Nancy on the Homefront shared 25 things to grow with limited space – it's always good to remember what grows well in small spaces.
My Flagstaff Homes shared a delicious looking fresh summer pasta recipe using fresh dill, feta cheese (my fave) and tomatoes.
Garden Grace and Homestead shared a pretty genius idea for a homemade tomato trellis. I always struggle with my tomatoes so I'm curious how this works out for them.
Finally, Flower Patch Farmhouse shared instructions for making an easy garden obelisk. I see some of these in my future after we finally get settled into our passive house and have free time again.
And now it's your turn! What have you got for everyone this week?