Welcome to this week's Tuesday Garden Party. Like Jami talks about below. I battle slugs too. They have been out in full force and I lost a couple of my cucumber plants in my cold frame. See the photo below. The two empty containers are where 4 cucumber plants were growing just the night before.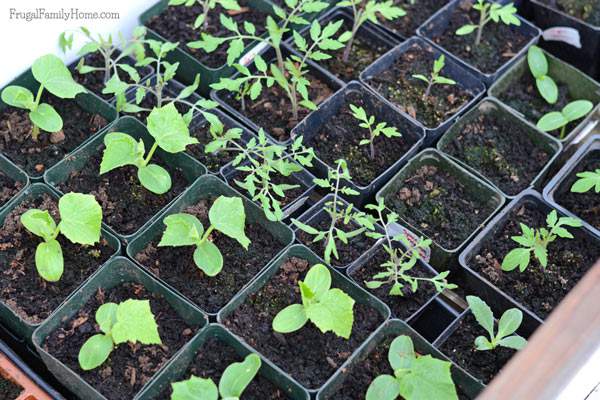 I added a little slug bait and no more problems from the slugs. It worked so great, I'll have to remember to use it again when the seedlings get transplanted to the garden.
Scroll down to see who was feature at this week's party and to link up a gardening posts of your own.
An Oregon Cottage: Facebook | Pinterest | Instagram | Twitter | Google+
Frugal Family Home: Facebook|Pinterest|Instagram|Twitter|Google+
Simplify Live Love: Facebook|Pinterest|Instagram|Twitter|Google+
Thank you  for sharing all your gardening progress, wisdom and inspiration with us each week! When you link your post here it will automatically be seen on all Four blogs – all you have to do is link to ONE of our sites. Feel free to follow our Tuesday Garden Party Pinterest board where you may get a sneak peak of our weekly favorites and features, and search and follow #TuesdayGardenParty on any of your social media!
From your host this week, Jami at An Oregon Cottage:
You gotta know it's spring from this collage, right? Tulips, Brunnera, Grape Hyacinths, and transplants of lettuce, spinach, Chinese cabbage and onions. I'm ready and I sure hope those of you in the midwest and east are seeing signs of spring where you are, too! What you don't see is that I also planted seeds of snap and snow peas, some lettuce seeds, and I harvested the first of the asparagus. Ah, that first asparagus tastes so wonderful – I like it roasted just until tender…yum.
When I went to the garden the day after planting the lettuce transplants, I realized I wanted to share something with you – or those of you who deal with slugs and snails – that I learned the hard way:
Always buy a non-toxic slug/snail bait to use when planting your tender leafy seedlings. This photo above was taken less than 24 hours after planting – if I had forgotten to sprinkle the bait (I use Sluggo affiliate link) more than half the seedlings would've been gone. There were trails everywhere. It's a waste of time, money, and effort otherwise – and I have lost entire plantings before. You can try baiting with beer traps, but I don't want to risk the seedlings, so I need something to encircle them. How do you all deal with slugs and/or snails, if you have them? Ever lost whole plantings to them – like an entire bed of tomatoes?
Well, on to better thoughts – like your features from last week! These are awesome, guys – I've already started using cinnamon on my indoor seedlings and plants to keep the gnats down and been inspired by Mindy's new garden bed. Check them all out:
1. There's always room for A New Planting Bed @RindyMae
2. Gotta try 8-Minute Baked Collard Chips @Restored Roots
3. Who knew there were Chicken Supplies to Buy at The Dollar Store? @Murano Chicken Farm
4. Peas planted on St. Patrick's Day – and more @Wild West Gardeners
5. You won't believe these 6 Reasons Plants Love Cinnamon @Feathers in the Woods
Link up your new shares below – looking forward to seeing what's going in in your gardens!