Welcome to this week's Tuesday Garden Party. I hope the weather has been great where you live and your gardens are growing really well. I'm eagerly awaiting our first yummy strawberry. They are getting bigger so probably another two to three weeks and we should be picking a few.
This week I'm hoping to harvest some of our rhubarb and make a batch of the rhubarb custard crisp. My kid's great grandma loves it and I'm hoping to make a batch for her for Mother's Day.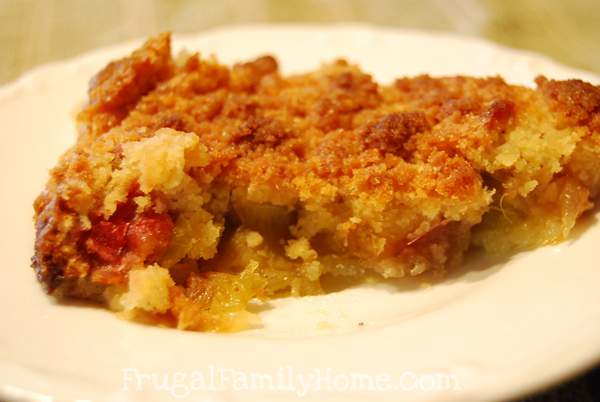 I would love to hear what you're harvesting or getting ready to harvest from your garden. Go ahead and scroll down and leave me a comment. But as you're scrolling down be sure to check out the great features from last week and enter the giveaway. Jami shares all the details below.
An Oregon Cottage: Facebook | Pinterest | Instagram | Twitter | Google+
Frugal Family Home: Facebook|Pinterest|Instagram|Twitter|Google+
Simplify Live Love: Facebook|Pinterest|Instagram|Twitter|Google+
Thank you  for sharing all your gardening progress, wisdom and inspiration with us each week! When you link your post here it will automatically be seen on all Four blogs – all you have to do is link to ONE of our sites. Feel free to follow our Tuesday Garden Party Pinterest board where you may get a sneak peak of our weekly favorites and features, and search and follow #TuesdayGardenParty on any of your social media!
From your host this week (again!), Jami @ An Oregon Cottage with a special garden themed review & giveaway sponsored by LTD Commodities:
We've been wanting to offer a giveaway for the Tuesday Garden Party for awhile now, so when I was contacted by LTD Commodities about offering a $25 gift voucher in conjunction with their Time to Bloom: Get Your Garden Ready To Grow promotion – and I saw that they offered some fun solar lights for great prices – I thought it would be a great offer for you guys! I was given a gift voucher to try out some items to share with you, which I used for this strand of 10 LED globe solar lights, pictured above, and a few other things.
When I hung them up in front of our French doors, I thought it immediately looked like a party with the fun globe shapes! I love the look of outdoor spaces with strands of hanging lights and these seem sturdy and well made- and they only needed a few hours of charging from the sun to light the night I hung them up. The light is bluish like many LEDs, not a warm white like I usually prefer, but they're still cute, don't you think?
But I was really excited about these lanterns with their classic shape and candle-like light. I was actually surprised at how well made these are for the price – they are metal and glass and the solar 'candle' is warm white that actually looks like a candle. Like the globe lights, these charged right away. There is an on/off button on the bottoms of the lanterns, though we've figured out that "off" means they'll turn on a dusk for you. At first I was thinking I'd have to go out and turn them on every time I wanted to see them, ha!
Just in case you aren't in the market for solar lights and you win the gift voucher, there are a TON of other interesting things like this set of six small ramekins which I found (they're ceramic and come with lids making them perfect for things like party condiments to get them ready early and then easily store any leftovers), and things for grilling like the pan pictured. It worked great for the boneless chicken thighs we grilled that often stick to our grates.
To be Entered in the Giveaway: visit LTD Commodities here and pick something you'd like, come back to any of the host's blogs to leave a comment telling us what you would choose, and then fill out the Rafflecopter form below to be entered to win a $25 gift voucher!
  And now on to the features and this week's party-
1. Learn how to protect raised beds from animals @ Grace Garden and Homestead
2. Find out when to prune lilacs @ My 1929 Charmer
3. Get some direct seeding tips @ Garden Up Green
4. Make an optical illusion mirror for your garden @ Empress of Dirt
5. Make your own hummingbird nectar @ Feathers In The Woods  
So many great ideas – looking forward to what you've got in store for us this week!
Disclosure: Jami received product to review for this post on behalf of the TGP hosts – as always, the opinions and thoughts are all mine. You can read Jami's entire disclosure page here.