This week is going to be another warm one. I've been watering more often trying to keep all the vegetables hydrated. We are going to be in the 90's most of the week this week so I see a lot of watering in my future. 🙂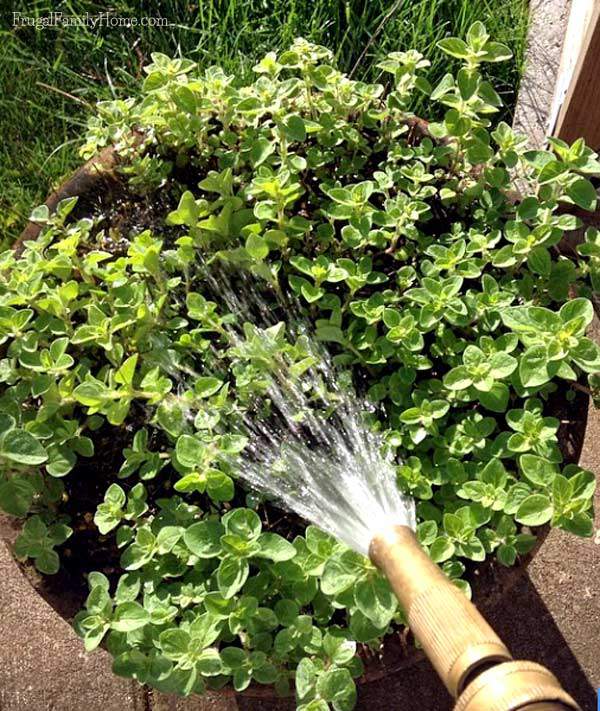 Thanks for visiting the Tuesday Garden Party this week. Scroll down to see the feature posts from last week and share your own garden wisdom in the link up below. If you don't have a blog you can still share what's going on in your garden in the comments below.
An Oregon Cottage: Facebook | Pinterest | Instagram | Twitter | Google+
Frugal Family Home: Facebook|Pinterest|Instagram|Twitter|Google+
Simplify Live Love: Facebook|Pinterest|Instagram|Twitter|Google+
 Facebook|Pinterest|Twitter|Google+
Thank you  for sharing all your gardening progress, wisdom and inspiration with us each week! When you link your post here it will automatically be seen on all Four blogs – all you have to do is link to ONE of our sites. Feel free to follow our Tuesday Garden Party Pinterest board where you may get a sneak peak of our weekly favorites and features, and search and follow #TuesdayGardenParty on any of your social media!
From your host for this week, Michelle @ SimplifyLiveLove
My garden actually looks terrible after weeks of dry weather and I haven't been doing much in it. I should have been watering, but didn't. Now that we've got heat indices back in the 100s – right in time for the beginning of the school year – we finally got much needed rain. I'm hopeful that with the heat and the water, my garden will back in business and I will gather enough tomatoes to make the most awesome Roasted Tomato Sauce ever!
If my own tomatoes don't do much, I'm taking comfort in the fact that I'm heading down to Missouri later this week and will can up my dad's surplus tomatoes. He got all the rain we did not and his tomatoes look absolutely amazing this year. I've got tons and tons of green tomatoes in my garden – just need them to turn red now. Since my garden is nice and moist again, I really, really need to get out there and weed, finally! I haven't weeded in soooo long.
Weeding and drying herbs will keep me busy early next week and canning my dad's tomatoes will keep me busy later on. What will be your garden tasks for the week?
…..On to this week's lovely features…..
1. The Potential Of A Broken Rocking Chair – by My Creative Days – I love this DIY flower planter and would love to see how it looks now after a few months of growth!
2. Dallying in the Dahlia Garden – by Garden Grumbles and Cross Stich Fumbles – I planted dahlias in my own garden for the first time this year and am stunned by the varieties pictured in this beautiful post!
3. Garden Bloggers Bloom Day – by A Student Gardener – if you like flowers, check out the gorgeous beds in this post. The colors are beautiful!
4. A Garden Birthday Party – by Pondside – Wow! What a perfect setting for a first birthday party. I adore these pictures.
5. The Bug Detour – by GardenUpGreen – I often grumble about the harmful bugs in my garden. I love this post about beneficial insects!! It's a refreshing change.
Now onto what you have to share this week!