Things are really starting to wrap up quickly in our garden. Our green beans are still going strong but with the strong winds we had a few weeks ago they look a little tattered. We have some great features from last week so be sure to scroll down and take a peek.
An Oregon Cottage: Facebook | Pinterest | Instagram | Twitter | Google+
Frugal Family Home: Facebook|Pinterest|Instagram|Twitter|Google+
Simplify Live Love: Facebook|Pinterest|Instagram|Twitter|Google+
Creative Country Mom: Facebook|Pinterest|Twitter|Google+
Thank you  for sharing all your gardening progress, wisdom and inspiration with us each week! When you link your post here it will automatically be seen on all Four blogs – all you have to do is link to ONE of our sites. Feel free to follow our Tuesday Garden Party Pinterest board where you may get a sneak peak of our weekly favorites and features, and search and follow #TuesdayGardenParty on any of your social media!
Here's what's been happening in our garden,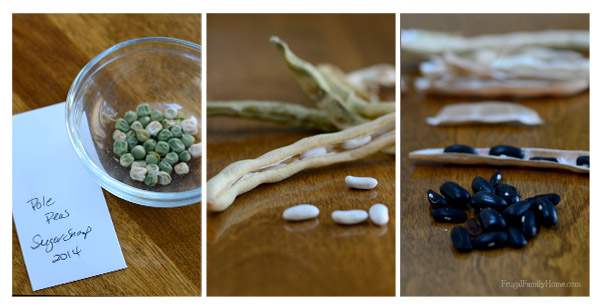 Our garden is quickly fading as the crisp fall weather and the shorter days have started. I had collected some of our sugar snap peas earlier this year, to save for next year. I've been collecting beans that have gotten past their prime on our pole and bush bean plants too. I like to save seeds each year from our garden to plant the following year. I guess you might say I'm too cheap to even buy seeds.
I had carefully sorted out the Bush Wax Beans and the Blue Lake Pole beans, so I wouldn't get their seeds mixed up. But as you can see by the photo above, that really wasn't a problem at all. The wax bean seeds are black and the pole beans are white. Pretty easy to sort them. 🙂
Now for this week's featured posts
1. Sensible Gardening and Living share about saving seeds. Be sure to check it out if you want to start saving your own seeds too.
2. Our Stoney Acres had 5  reasons why you should plant a garden. I garden for the same reasons she has listed. Need to convince someone to start gardening? This would be a great place to start.
3. I love, love, love Little Farmstead's Country Fall Porch Photos. I really want her front porch. If you missed it last week be sure to take a look. You'll have porch envy, I'm sure.
4. Growing in His Grace has a nice tutorial about how to dry carrots. I dry our extra carrots for soups in the fall and winter.
5. Homestead Mania, has a great beginners guide to chopping wood and she even has a video too. I know I chop wood for our wood stove and her tips are great.
6. Minnie's Milestones shared Fall Crocus planting in rock and clay tips. We have a few Crocus and I might need to plant a few more in our clay soil and see how they do.
It's your turn to share what's happening in your garden,