Do you start each day with hopes of getting a lot done. But then the day starts and as soon as your feet hit the floor you are running all day. And you don't stop until your head hits the pillow again that night?
Just to have the next day start all over again the same?
You long to get ahead of all those tasks you have to do each day. So you could have a little time to do something fun with your family.
You want to feel like you are in control of your day instead of feel like your day is running you.
If only you could get ahead. Then you would have time for the really important things in life. And maybe even a little time to do something like read a book, do a craft project or just take a nap.
To make changes you are going to need a plan. Because like Ben Franklin said "If you fail to plan, You are planning to fail."
Let me help you take control of your day. It can be done, one step at a time. And this homemaking planner can help.
The printable homemaking planner can help organize and take control your life.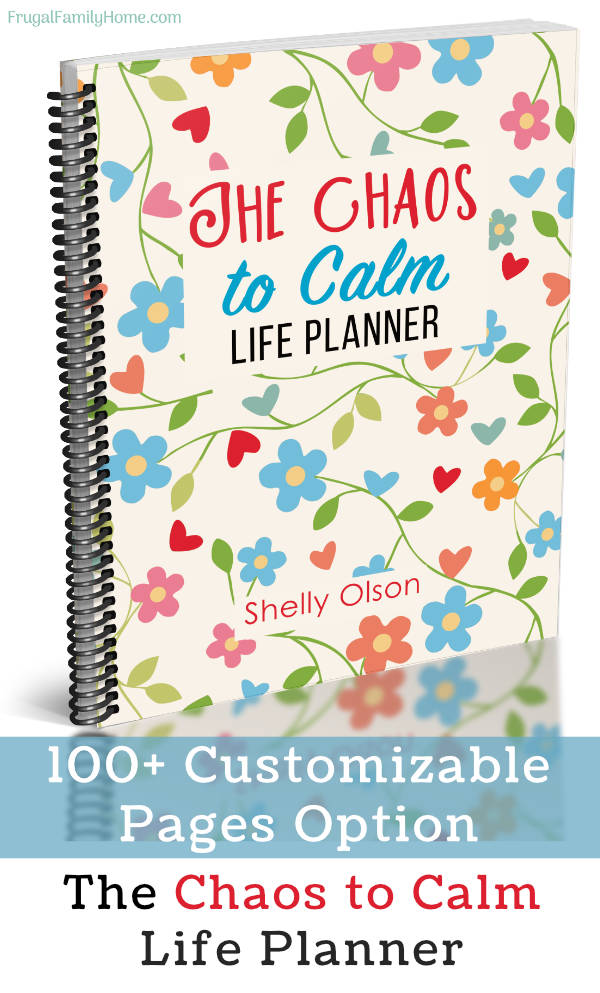 This printable homemaking planner was designed to provide usable sheets to help you manage your home. Every aspect of your home. So you can take control of your day.
You'll be able to get organized so
You won't have all these little pieces of paper floating around with information you need on them.
Instead you'll keep those thoughts all in one place, organized so you'll be able to find them easily.
You'll have a place to keep track of your meals, your shopping lists, and more. So getting dinner done will be a snap. And you'll eat out less and save money too.
You'll have a plan for cleaning your home. Making it easier to get your home clean and keep it that way, without feeling like you are cleaning all the time.
It's kinda like a brain in a binder, a place to put important information down so you don't have to remember it. Getting that information written down and in a safe place helps to free your mind for other important tasks.
Plus if you are away, your family at home can easily access the information if needed.
Who is this Homemaking Printable Binder Pack for?
First, let me tell you who this homemaking planner isn't for.
It isn't for someone who loves elaborate planners with lots of graphics and stickers.
It has fewer graphics and more room to write. Now it's not an ugly planner by any means, it has nice colors and fonts to make it attractive.
But it's designed to be more printer ink friendly so you won't have to spend a bunch of money on ink to print the pages.
Plus it's a great deal so you can always purchase some stickers at the store to dress it up, if you really want too.
Now let's get to who this homemaking planner is designed for.
This homemaking planner would be good for any homemaker who wants to get more organized in the new year or any time of year.
If you want to be able to keep ahead of tasks and have a plan, this binder can help you lay out your month, week, or days, very easily.
It's for someone who can do without the graphics and lots of colors in their planner.
It's for the budget conscious homemaker who needs a place to track thing for her family without too much fluff or printer ink needed. It's for someone who want to print only the pages she needs and none of the ones she'll never use.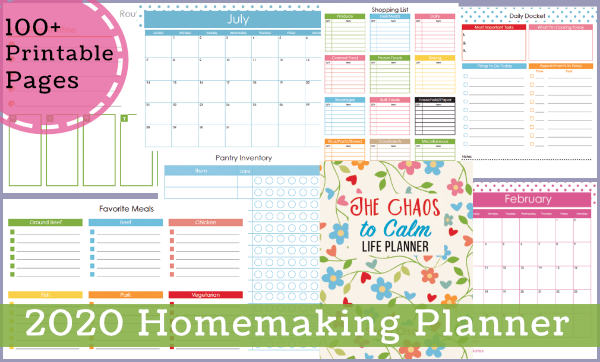 The 2020 Homemaking Planner Includes:
Not only does this pack have a 2020 calendar but it also has weekly and daily planner pages.
So you can organize by the month but have pages to organize your day or week, whichever fits your home the best.
You just print and use the sheets you need, making it easy to customize. No need to print the pages you won't be using.
If keeping up with birthdays at your house is something you'd like to do better, this homemaking printable pack has a birthday reminder page so you can quickly look to see which birthdays are coming up for the month.
If you need to budget for birthdays there is a birthday reminder sheet with a budgeting section too.
If you need to track more than birthdays there is also a special events page to track those other occasions during the year too.
If you want to make a plan for your house cleaning, there are pages for that too.
If you don't need a sheet with daily cleaning tasks but need something that stretches a little farther.
There are lots of cleaning sheets to choose from, a checklist for daily, weekly, monthly, quarterly, and yearly included. Or you could use both of them to really plan out your cleaning tasks.
I've even included a chore chart so you can plan to have the kids help with tasks around the house.
If this year is your year to get your finances under control you'll find sheets to help you.
There is a bill paying checklist so you can mark off each bill for each month as it is paid.
There's a monthly budget sheet and a savings tracker too so you'll be able to make sure you are putting away the right amount of money into savings each month.
There's a gift budget sheet, as well as a Christmas budget sheet. It's never too early to think about next Christmas and get prepared.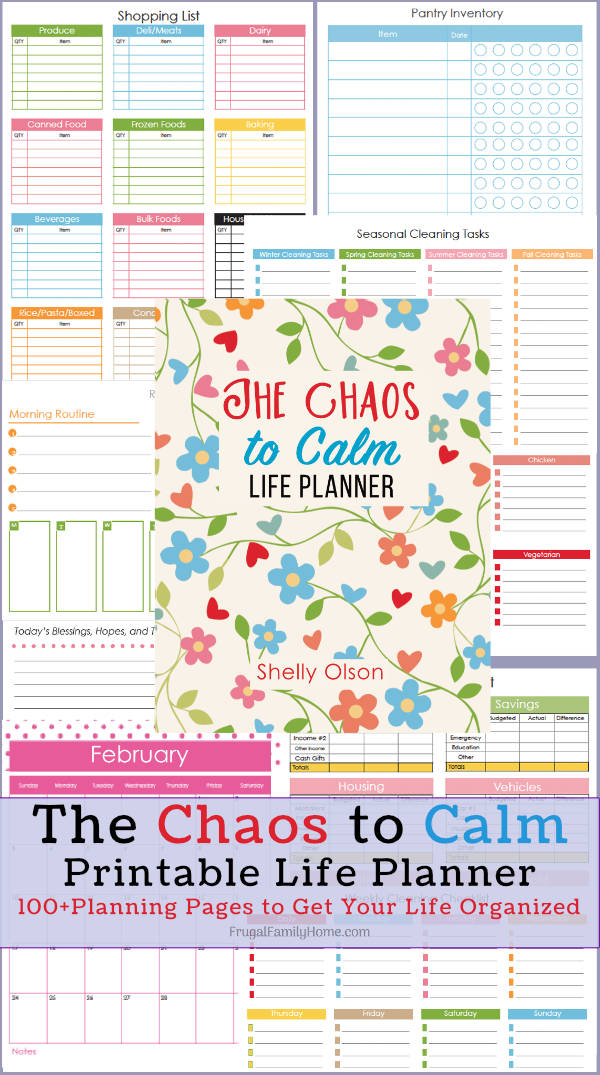 If eating at home more with a plan is something you aspire to tackle this year, there are sheets to help you tackle this task too.
There is a weekly and monthly menu planning sheet. As well as a freezer and pantry inventory sheets so you can make sure to use what you have on hand and have less food waste.
Plus a printable grocery list sheet and a favorite meals sheet for those days when you just can't think of anything to add to your menu plan.
You'll find a list of important documents to have on hand and a safety deposit box inventory so you'll know what you have stored in the box without having to make a trip to see.
The usual forms are in the homemaking planner too. A contact form to list address, emails, and phone numbers of your family and friends.
Along with an emergency contacts page and utility page, so you don't have to look those numbers up when something goes wrong.
There is also a week at a glance sheet and a weekly routine similar to what you might find in other homemaking printable packs.
Included are some health tracking sheets too, like a family health sheet to list each family member with their allergies and illness along with current medication.
Included in the planner is a medical tracker so you can track any medical or dental appointments during the year and know what follow-up is needed.
And finally, there are goal setting sheets because we all know when you write down your goals you are more likely achieve them.
Included in the goal sheets are sheets to write your weekly goals along with the steps needed to take each day to reach them.
Then there is a page for monthly goals with an area for steps to take each week and finally a page for long-term goals that might take you a year or more.
Most of the sheets I've described above come in vertical and horizontal formats so you can decide which will suit your needs best.
There are over 100 sheets in all plus the 10 different cover options.
I tried to make them attractive but also conservative on the amount of ink needed to print them. You can always print them in black and white to save on ink too.
Two Options for the Homemaking Planner
There are two options for purchasing the homemaking planner.
You can purchase the customizable pdf or the printable pdf.
The difference between the two is the customizable version you can edit the sheets to include your tasks or add dates to your calendar before you print them off.
With the printable version, you'll need to add your information after you've printed the sheets.
This is a digital product and the photos above are for illustration purposes only. When you purchase you will get a digital file that you can print.
If customizable pdf's is what you want and need you can purchase the customizable pack for just $17 Use the button below to add this option to your cart.

If the printable pack is all you need and want to be able to print out the forms and then fill them out by hand you can grab that homemaking printable pack for $9 Use the button below to add this option to your cart.

No matter what option you choose for this homemaking planner, I'm sure you'll find really useful forms to help you get your life more organized this year.
Here's to a happy and more organized home!