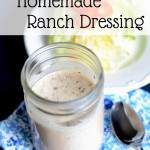 Print Recipe
Dairy Free Ranch Salad Dressing
Delicious homemade ranch dressing that is dairy free. So simple and easy to make too.
Mix the dairy free milk and vinegar. Set aside to thicken.

In a large bowl, mix mayonnaise and seasonings.

Add the milk mixture to the mayonnaise mixture and whisk until all the lumps are gone.

Store in a clean jar in the refrigerator.