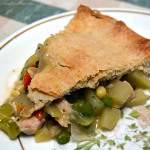 Print Recipe
Homemade Turkey Pot Pie
Use leftover turkey from Thanksgiving in this yummy turkey pot pie recipe. It's easier than you might think to make too.
Place the olive oil in large pan. Add the diced potatoes, onions, carrots, and celery to the pot.

Cook over medium heat until vegetables are slightly softened about 10 minutes.

Sprinkle the vegetables with flour and stir in well.

Slowly add the broth and stir well so there are no lumps.

Add in the peas, seasonings and cooked turkey. Stir to combine and cook until thickened.

Remove from heat and set aside.

Place one of the pie crust into the bottom of the pie pan and press into place.

Add the cooked pot pie filling.

Top with the other pie crust and crimp to seal, cut a few slits for venting.

Bake 375 degrees for 20-25 minutes or until heated through and golden brown.

Let cool about 5 minutes and enjoy.
I use my homemade turkey soup kits to make the turkey pot pie. But canned or boxed broth along with cooked turkey or chicken will work in this recipe too.