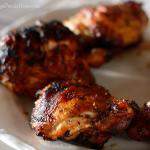 Print Recipe
Garlic and Herb Chicken Thighs
An easy dinner you can make ahead for the freezer and later cook in the slow cooker or oven.
Chicken Thighs

trimmed and rinsed
Place the trimmed and rinsed chicken thighs on a plate and sprinkle with seasoning mix.

Make sure to sprinkle the chicken on both side and rub the seasoning mixture in.

Place the seasoned chicken thighs into a zipper freezer bag, label and freeze.
To Prepare
Thaw the chicken thighs overnight in the refrigerator, until thawed completely.

Cook the chicken on the grill 10 minutes per side, in the slow cooker (6-8 hours) or bake 45 minutes in the oven until cooked through and no longer pink.

Let cool a few minutes and then enjoy.