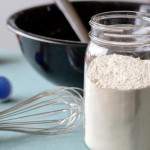 Print Recipe
Pancake Mix
This recipe is for one batch of pancake mix. Double or triple it to have more on hand and ready to go.
Servings:
1
batch pancakes
In a large bowl combine the ingredients and with a whisk, mix the dry ingredients well.

Store in an airtight container.

Make sure to label the container so you know which mix it is.
To Prepare
Add 1 cup of water and 1 cup of milk (or dairy free milk) to a bowl. Add in 2 tablespoons of oil and 1 teaspoon of vanilla. Now is the time to add the 2 eggs if you didn't use the soy flour in the mix.

Add the mix package to your wet ingredients and just stir to combine. Being careful not to over mix.

Spoon batter onto a hot griddle or skillet and let cook on one side until golden brown. Flip and cook on the other side until cooked through.