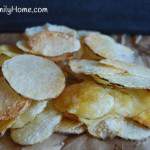 Print Recipe
Homemade Potato Chips
These microwaved potato chips are really crisp and have a nice fresh potato flavor.
Slice the potatoes very thin, I used a mandolin to slice mine.

Place the sliced potatoes into a bowl of ice water and chill for about 10 minutes.

Take out 8-10 slices of potato and press dry between paper towels or a clean towel.

Grease a casserole dish with olive oil. I used a glass pie plate and it worked well.

Place the dry potato slices into the pie plate and sprinkle with salt or other seasonings.

Microwave on high for 4-5 minutes until the potatoes get crisp and slightly golden in color.

Repeat the process until all the potato slices are cooked.You may need to add more olive oil after about 3-4 batches.

Enjoy!