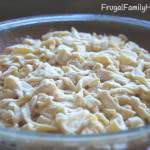 Print Recipe
Homemade Egg Noodles
This recipe comes from my great grandma and brings back so many wonderful memories for me. I would love going to my great grandma's house and smell the wonderful aroma of these noodles simmering on the stove.
2

Eggs

slightly beaten

1/2

teaspoon

of Salt

1

cup

Flour

plus more for rolling out the noodles

4

cups

of broth for cooking the noodles
Making the Noodles
Mix the eggs and salt.

Stir in the flour then turn the dough out on a well floured board.

Knead the dough 3-5 times, then cut the dough in half.

Roll the first piece of dough out very thin. Then cut into strips about 1/4 inch wide and then cut the strips crosswise about one inch long.

Sprinkle the cut noodles with flour and then toss with flour.

Repeat for the second dough ball.
To Cook Noodles
Bring the broth to a boil.

Drop the noodles into the broth and stir.

Simmer for about 20-25 minutes or until cooked through.

If you have leftover meat add it to the noodles and heat through.

Serve hot, enjoy!