Prime Day, it's like black friday and back to school sales all rolled up into one big day, well this year it's two days. And starts July 15 to 16.
And some deals have already started! Here's tips to help you get ready!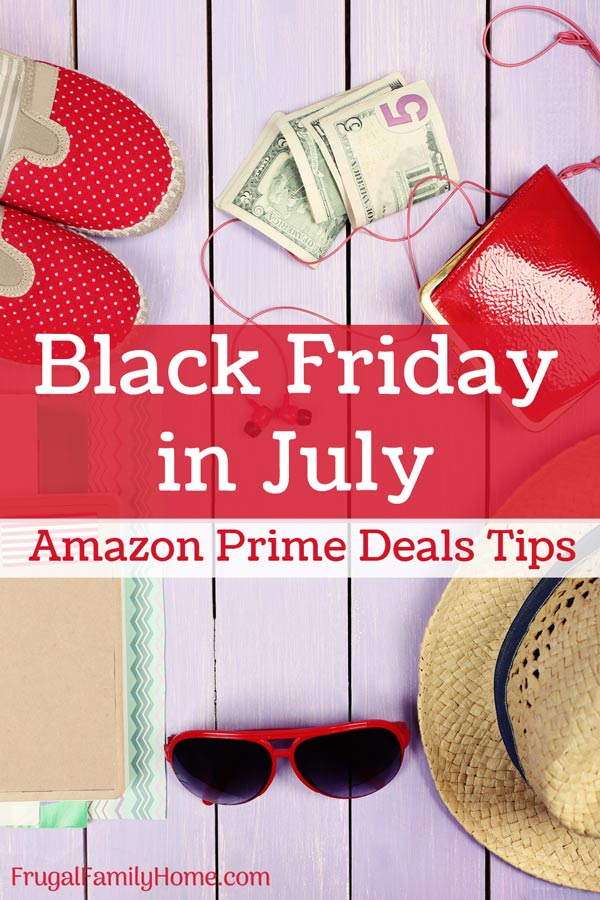 Just so you know the links below are my referral links. Which means when you purchase through them I can make a little money at no extra cost to you. Thanks! See my disclosure policy for more information.
1.Sign up for Amazon Prime (if you are not already a member)
Not a member yet? Get a 30 day free trial of Amazon prime by click the photo below and sign up. Then you'll be ready for Prime Day Deals!
2. Make Your Watch List
Go to Amazon and make your watch list and add items you want to get on sale now. Get a sneak peek at what will be on sale during Prime Day.
Now that the sale has started be sure to watch the lightning deals page for current deals on so many items but you need to act fast to get in on them.
3. Bookmark This Page Now
I'll be adding new items that are on sale for Prime day here for the kitchen and home. Bookmark this page so you can click on it to quickly check to see any new items available.
4. Find the Deals (you want) and Save Money
There are already deals happening right now. I've linked to a few that look good below. But with Prime days prices change and deals come and go. So be sure to check back here for more to be added as they come up.
Remember if you aren't a prime member you won't see the deals, you have to be a prime member so sign up for a free 30 day trial.
Now onto the 2019 Prime Day Deals…
Electronics Deals
Fire TV Stick with Alexa Voice Remote or the 4K Fire Stick with Alexa Voice Remote or the Firestick 4K Bundle
We have two Fire 7 tablets. My kids love them and now is a great time to buy one for your own kids for Christmas. Get your shopping done early.
If you are looking for an inexpensive laptop for the kids or yourself, Chromebooks are a great solution. We've had one in our family for 2 years now and it works great. And such a good value for the money too.
Garmin has some really nice fitness trackers to check out. I own a Garmin for my fitness tracker and love it. Yes, there are less expensive ones, I went through two of them in less than 3 months and decided it was best to buy quality. And in the long run it has paid off.
Home, Garden and Kitchen Prime Day Deals
If you haven't already purchased an Instant Pot. You can get a good deal on one during the Prime Day sale. This Instant pot is such a good buy, I don't think I even saw this good of a price on last year's Black Friday sales. If you've been wanting one, now is a good time to get a good deal.
If an Air Fryer has been on your list. This is another kitchen item that is on sale. Need accessories? Get a deal on air fryer accessories too. The Cosori Air Fryer that hold 5.8 quarts is on sale. It looks like a great one with good reviews (4.5 stars)
Prime Day Deals on Kitchen Items
If you'll be prepping meals ahead you'll find these glass food storage containers with snap on lids on sale today.
I love my hand blender and would be lost without it. And you can get a great deal on one too.
If you like to grill indoors this indoor grill is a good price.
This would make a great wedding or house warming gift for someone who likes to bake.

More Home Deals for Prime Day
We all have to vacuum our homes but what if you could have a robot vacuum for you? I know I've been wanting one of these and it's at a good price today.
Getting ready for a trip or need to organize your closets? Try these space saver bags and no vacuum needed.
Need new sheets this 1800 microfiber sheet set is on sale.
Do you have trouble sleeping? Try sleeping under a weighted blanket and this one is on sale.
Garden Deals for Prime Day
Get a tabletop garden growing with this kit. It's the best price I've seen.
This hammock swing looks so comfy for sitting outdoors.
Clean up around the house with this electric pressure washer. We love having one to make cleaning up items fast and easy.
Get sprinklers set up in your garden with these sprinkler kits.
Prime Day Deals I'm Watching…
Mrs. Meyers Dish Soap (smells so good!) or Mrs Meyers Cleaning Concentrate
Whistling Tea Kettle or an Electric Kettle
Bath Mat, that's great for kitchen sink area too, so soft and feels good under your feet.
Bento Lunchbox Containers, great for kids or adults
Glass Drinking Straws We love our glass drinking straws.
Salad Spinner I use my salad spinner all the time.
A great knife set because everyone who works in the kitchen needs good knives.
Be sure to check back and I'll add more great deals as I see them come available.