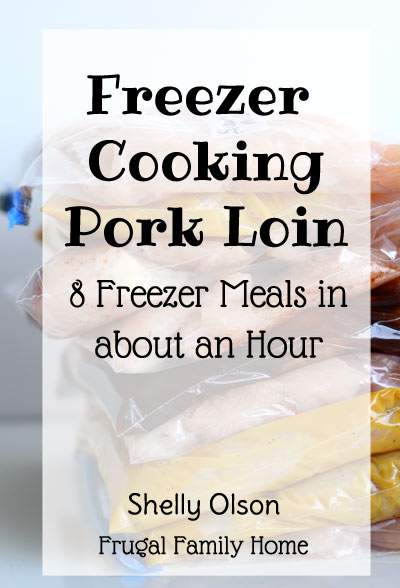 Freezer Cooking Ebook
8 Pork Freezer Meals in an Hour

This pork freezer meals ebook will show you how to take a full pork loin and transform it into 8 pork dinners in just about an hour.
The secret to making these freezer meals so quickly is they require no pre-cooking at all. All you need to do is portion the pork and add to the freezer bags with the marinade. It's really that easy.
If you tried freezer cooking like I did and were frustrated with all the steps involved with freezer cooking. With all the cooking, cooling and then packaging of the meals. I'm sure you'll find this freezer cooking technique so much easier.
The meals come out tasting so fresh because they're cooked fresh the day you serve it and not a month before.
You'll be able to save money by not eating out on those busy days because dinner will be waiting for you in the freezer. You'll be able to easily stock your freezer with pork meals your family will love.
Plus you can save money by purchasing a pork loin it is so much less expensive than purchasing pork chops.
In this ebook, I share not only the recipes but how to…
What and Where to Purchase the Pork Loin
Prep your work surface for easy clean up
The three steps I take before I even get the pork loin out of the refrigerator to start
What kind of cutting board I've found works best
How I cut the pork loin to minimize the waste and maximize the meals
A shopping list of all of the ingredients needed to make the meals
Each recipe has a list of other ingredients (if any) that are needed to prepare the meal. So you'll know you have what you need on hand.
Plus I've included side dish recipes in each pork freezer recipe. For the side dish recipes, there's a list of ingredients needed and instructions to prepare each side dish.
It's like having a meal plan in each recipe so you don't have to even think about what to serve with the pork.
Full List of Pork Freezer Recipes
• Garlic Pork Roast
• Sweet and Sour Pork
• Cranberry Pork Roast
• Italian Pork Chops
• Maple Mustard Pork Chops
• Marinated Pork Chops
• Herb Rubbed Pork Chops (2 meals)
All of these recipes are recipes my family loves and we eat often. Even my picky eater will eat these recipes without a protest. Your mileage may vary with your own picky eater. 🙂
Most of these recipes can be prepared in the slow cooker or on the grill for hot summer days. In the cooler months, they can be made in the oven too. Cooking these pork recipe can be adjusted to each season of the year.
So if you are like me and are frustrated with spending so much time in the kitchen making freezer meals, you need to try these recipes.
Truly you can make these 8 pork freezer meals in about an hour. I make them regularly and they are quick and easy to make.
And since these freezer meals are cooked for the first time out of the freezer they all taste like freshly prepared meals instead of leftovers.
What's an eCookbook?
This pork freezer cookbook is a PDF ebook. It can be read on a smartphone, tablet, or computer. This ebook is also formatted to print on regular 8.5×11" paper if you want to have a printed copy.
After you purchase you'll be directed to a page where you can download your ebook.
You'll also receive an email with the link to download the ebook too.
When you order you'll get my printable Freezer Inventory Sheet too!