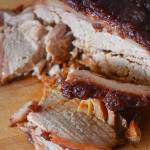 Print Recipe
Slow Cooker Cranberry Pork Roast
An easy slow cooker recipe that is fancy enough for a holiday dinner but easy enough for a busy weeknight.
Place the pork roast into a slow cooker (I use a 5 quart one) and sprinkle with seasoning.

Spread the cranberry sauce on top of the roast and cover. My slow cooker doesn't need extra water added but if your slow cooker runs a little warmer, you might want to add a 1/4 cup of water.

Set the slow cooker to low and cook 8-10 hours or until meat is done.

Remove the roast from the slow cooker and let sit and cool for about 10 minutes to let juices settle in the meat.

Slice roast and serve.

If you want a full meal to cook in the slow cooker, add a few potatoes and vegetables before cooking with the meat.