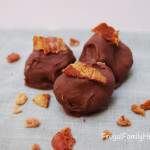 Print Recipe
Maple Bacon Bonbons
These maple bonbons contain a yummy smokey salty treat inside, bacon.
3

cups

Powdered Sugar

1/2

cup

Butter

softened

1

tablespoon

Maple Flavoring

4

slices

Bacon cooked crisp and crumbled

2

cups

Chocolate Chips or Candy Coating
Mix powdered sugar, maple flavoring and butter in a bowl until mixed well.

Crumble in 3 pieces of bacon and mix in well.

Chill the maple bacon mixture in the refrigerator until firm enough to shape into balls, I chilled mine about 1 hour.

Once the maple mixture has been chilled long enough. Scoop and shape into balls and place them on a wax paper lined cookie sheet.

Freeze the balls until firm. It took about an hour to freeze mine and then some just started to melt as I was dipping them so a little longer time in the freezer is better.

Once balls are frozen firm, melt the chocolate chips or candy coating over low heat on the stovetop and dip the frozen maple balls to coat them in chocolate. I have found a fork works well for this task.

Once dipped place the balls back onto the wax paper lined cookie sheet to set. I added a small piece of bacon to the top of each one of the balls while the chocolate was still not set for decoration.

Once the chocolate is firm and set. Place the candy in a tightly covered container and store in the refrigerator.

Enjoy!