Bacon is a really popular item at our house. My husband and kids just love bacon.I will make bacon on occasion to go with our breakfast. I will make bacon to sprinkle on our salad or in our soup.
That yummy salty, smokey flavor goes with so much. The other day I was thinking about how I could use bacon in a way I hadn't tried before and this recipe is what came to mind.
So I thought it would be perfect for my Homemade Sweet Treats series.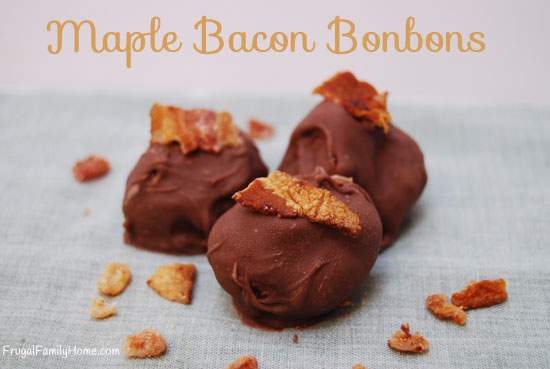 I usually make cream center bonbons at Christmas time each year. I have made them in many flavors in the past and maple is one of them.
So I thought why not give the maple bonbons a twist and instead of adding in nuts, sprinkle in some bacon bits instead.
I thought maple syrup goes with bacon and I was just sure that maple, bacon and chocolate would be a good combination.
The crunch of the smokey bacon inside the sweet maple cream was oh so good. It was an unexpected flavor but a good combination.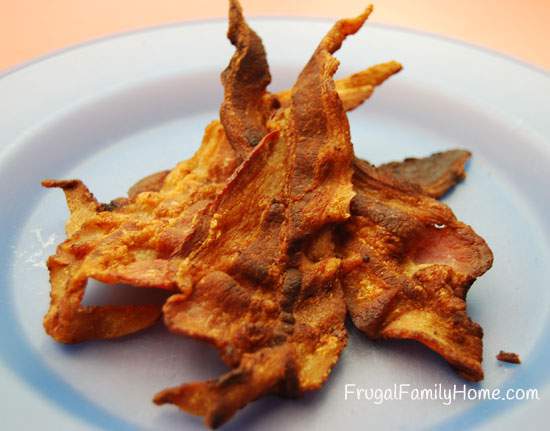 I knew I would need to get the bacon really nice and crisp to make these candies really good. Who wants to bite into a rubbery half-cooked piece of bacon in a luscious candy? Not me. So I pan-fried my bacon over medium heat. I wanted it crisp but not burnt.
So I didn't leave it even for a minute. As you know as soon as you turn your back on almost cooked bacon it's going to burn.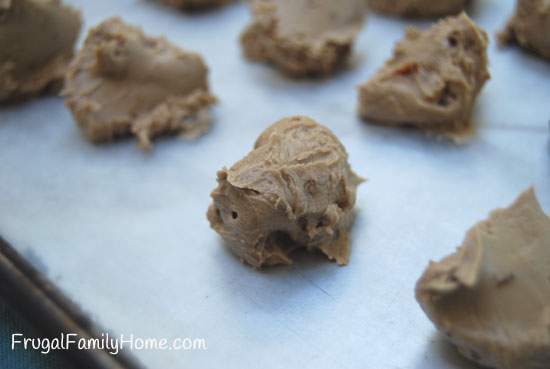 These bonbons are very easy to make. Most of the time is waiting on the bonbons to chill so the hands-on time is really a small amount of the overall total time it takes to make these yummy balls of goodness.
Don't let the total time scare you away from trying this recipe. This is a recipe you can plan to do other activities during the chill time or even freeze them overnight and dip them in the chocolate the next day when you have time.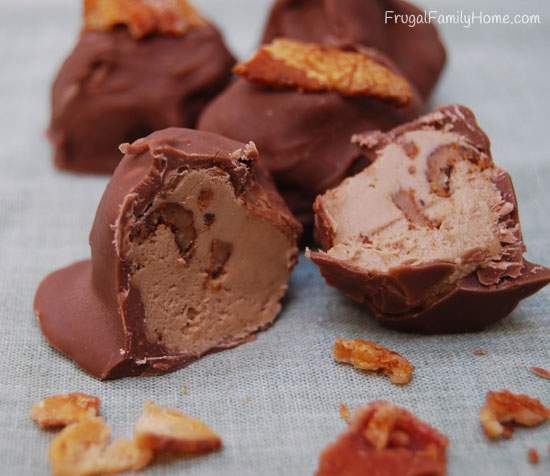 I hope the bacon lovers in your family like these as much as mine did.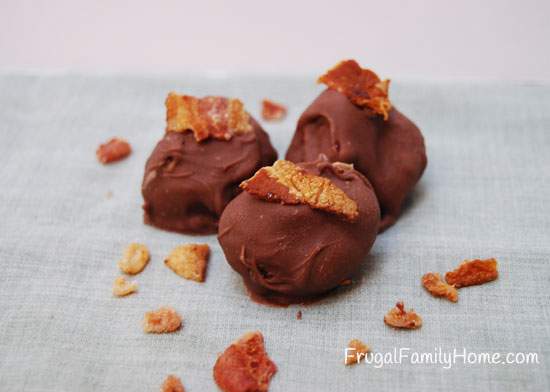 Maple Bacon Bonbons
These maple bonbons contain a yummy smokey salty treat inside, bacon.
Ingredients
3

cups

Powdered Sugar

1/2

cup

Butter

softened

1

tablespoon

Maple Flavoring

4

slices

Bacon cooked crisp and crumbled

2

cups

Chocolate Chips or Candy Coating
Instructions
Mix powdered sugar, maple flavoring and butter in a bowl until mixed well.

Crumble in 3 pieces of bacon and mix in well.

Chill the maple bacon mixture in the refrigerator until firm enough to shape into balls, I chilled mine about 1 hour.

Once the maple mixture has been chilled long enough. Scoop and shape into balls and place them on a wax paper lined cookie sheet.

Freeze the balls until firm. It took about an hour to freeze mine and then some just started to melt as I was dipping them so a little longer time in the freezer is better.

Once balls are frozen firm, melt the chocolate chips or candy coating over low heat on the stovetop and dip the frozen maple balls to coat them in chocolate. I have found a fork works well for this task.

Once dipped place the balls back onto the wax paper lined cookie sheet to set. I added a small piece of bacon to the top of each one of the balls while the chocolate was still not set for decoration.

Once the chocolate is firm and set. Place the candy in a tightly covered container and store in the refrigerator.

Enjoy!
Does changing a recipe make you worried or do you love the challenge of creating something new? I would love to have you share your thoughts in the comments below.
This post is part of my 31 days of Homemade Sweet Treats series.
SaveSave
Subscribe and you'll get Recipes
sent right to your inbox!
Click the button below and fill out the form.