Yummy cookies, everyone loves them, well almost everyone. I'm sure there is someone out there that doesn't really care for cookies but I'm not one of them. If you love cookies but have someone who needs to eat dairy free, I've got you covered with a delicious dairy free chocolate chip oatmeal cookie recipe that's also freezer friendly.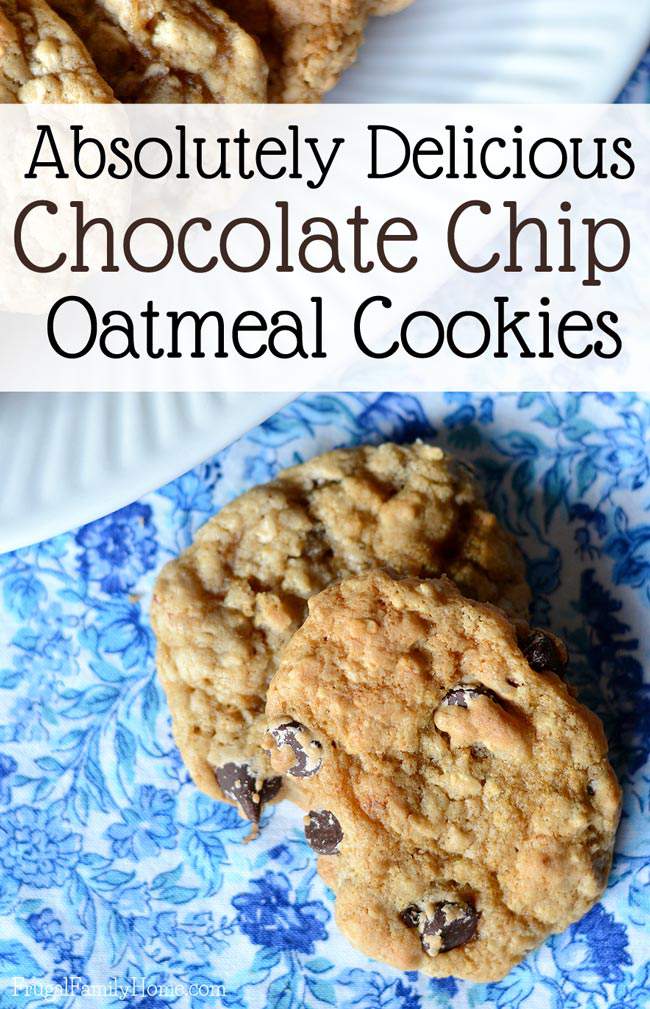 That's right you can stock your freezer with these dairy free chocolate chip balls of joy and bake them in just minutes when you get a craving. Which if you live in our house, can be pretty often, we have these hanging out in the freezer.
Let's get to the recipe right away so you can print it out,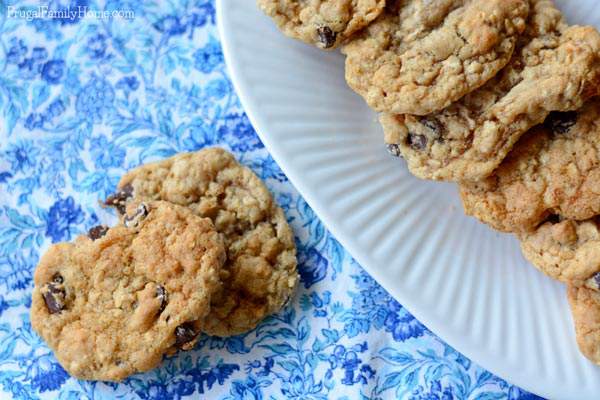 How to Make Dairy-Free Chocolate Chip Oatmeal Cookies
Ingredients
1

cup

Oil

2

tablespoon

Dairy-Free Margarine

I like Nucoa Brand

1/2

cup

Applesauce

2

tablespoon

vanilla

4

Eggs

5

cups

Oatmeal

blended until fine

4

cups

Flour

2

cups

Sugar

1

teaspoon

Salt

2

teaspoons

Baking Soda

2

teaspoons

Baking Powder

24

ounces

Dairy Free Chocolate Chips

3

cups

Chopped Nuts

optional
Instructions
Blend the oatmeal into flour. I do this in my blender or food processor one cup at a time. Once done set aside.

Mix the oil, margarine, applesauce, eggs and vanilla in a large bowl.

In another bowl mix the processed oatmeal, flour, salt, baking powder, and baking soda.

Add the flour mixture to the oil mixture and mix to combine.

Stir in the chocolate chips and nuts if desired.

Refrigerate the cookie dough for about an hour to make it easier to handle.

To Freeze the Cookie Dough

Roll the dough into cookie sized balls. Place them close together on a cookie sheet. Once the cookie sheet is full freeze the cookie balls until firm.

Once the cookie balls are firm, removed them from the cookie sheet and place them in a gallon size freezer bag. Label with the recipe name and date and baking instructions.

To Bake

Place the frozen cookie dough balls onto an ungreased baking sheet.

Baked at 375 degrees for 12 minutes
The cat and I are the only ones in our home that can enjoy dairy, the rest of my family is allergic so baking dairy free is a must at our house.
I have to say I never expected for my family's dairy allergy to be a blessing but it is. Once we discovered our daughter was allergic and my husband's allergy had returned, I needed to change our eating right away. With that need to eat dairy free came the need to learn to bake from scratch.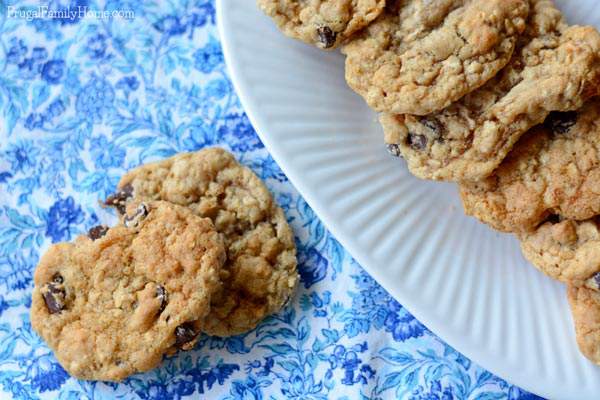 Just so you know some of the links are my referral links. This means when you purchase something through them I can make a little money at no extra cost to you. Thanks for your support in this way. For more information please read my disclosure policy.
After trial and error with runny cookies and hard as rock cookies, but eventually, I came up with this delicious version of a chocolate chip oatmeal cookie.
I started with a recipe my sister gave to me. It came from someone else, who got it from someone else, and so forth. Those are usually the best recipes to get. Each baker has tweaked it a little as it goes down the line. Making it just a little better.
This recipe makes a lot of cookies, 100+. I think I usually get 115 cookies for the freezer when I make a batch give or take a few. Once you make the dough you'll be set for a little while.
To adjust this recipe I had to take out the butter and replace it with something else that was dairy free. I tried all margarine but that didn't work. Then I tried all oil and that didn't work either. I finally settled on a combination of oil, applesauce and a small amount of margarine. Make sure to use dairy free margarine, I like Nucoa brand.
Once I had a replacement for the butter the rest of the recipe stayed pretty much the same. The only other swap out I made was to use dairy free chocolate chips. I usually can find them in the bulk foods at Winco Foods but be sure to check that the ones at your store are dairy free. If you can't find dairy free chocolate chips locally you can purchase them at Amazon.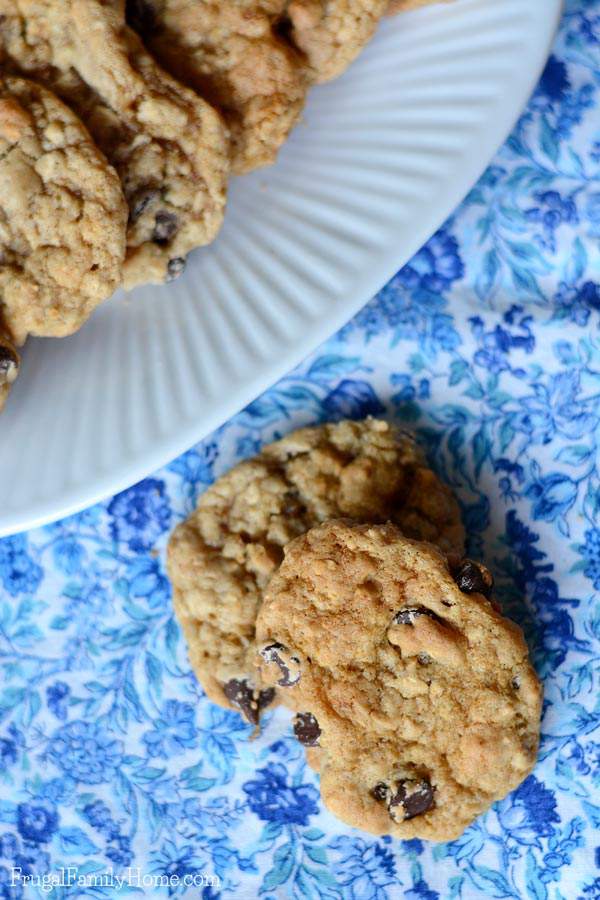 A Few Tips to Making these Chocolate Chip Oatmeal Cookies Great
Blending the Oatmeal into Flour
To make the oatmeal into oatmeal flour, I process it through my food processor. If you don't have a food processor, use a blender instead.
Be sure to process one cup of flour at a time to make it easier to get a fine powder out of the oatmeal. If you add all the oatmeal at once it might be too much for your food processor or blender. It's best to process the oatmeal in batches to get the best results.
Refrigerate Before Rolling
Refrigerating the dough for an hour before trying to roll the cookie dough into balls makes the dough so much easier to handle. If it's warm in your home you might need to return the dough to the refrigerator periodically to keep it cool and easy to handle.
Freeze on a Silicone Baking Sheet
These are baked on an ungreased baking sheet but I usually use my silicone baking sheet liner when baking them. It makes for easier clean up. Using the silicone liner when freezing the cookie balls also helps to keep them from sticking to the cookie sheet.
Use a Cookie Scoop
A cookie scoop although not necessary can be helpful in keeping your cookie balls all the same size. I usually just use a spoon but a friend of mine mentioned she really likes her cookie scoop to keep the cookies the same size and to help them bake more evenly.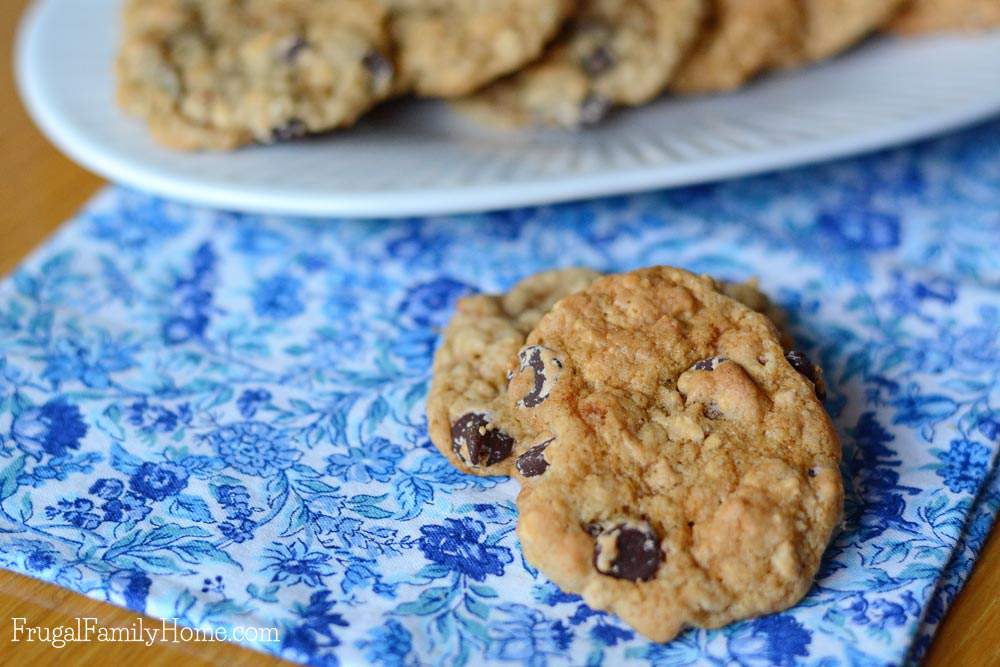 If you need to eat egg free too, you might try replacing the 4 eggs with an egg replacer or if you can eat soy try a tablespoon of soy flour and a tablespoon of water for each egg. I haven't tried making this recipe with the egg substitute but if I do I'll update the recipe.
That's how to make dairy free chocolate chip oatmeal cookies that are freezer friendly and so delicious too. I hope if you know someone who needs to eat dairy free they will love this recipe as much as we do. If you don't need to eat dairy free this is also a great recipe to make when you are low on butter.
What's your favorite type of cookie to make?
Browse more dairy-free recipes
Subscribe and you'll get Recipes
sent right to your inbox!
Click the button below and fill out the form.