I hope you had a wonderful Christmas! The days after Christmas are a great time to stock up on a few items that will help you save in the new year to come.
I don't do much after Christmas clearance sales shopping but when I'm out at the store for other things, I do make sure to go by the clearance tables. You never know what great deals you will find.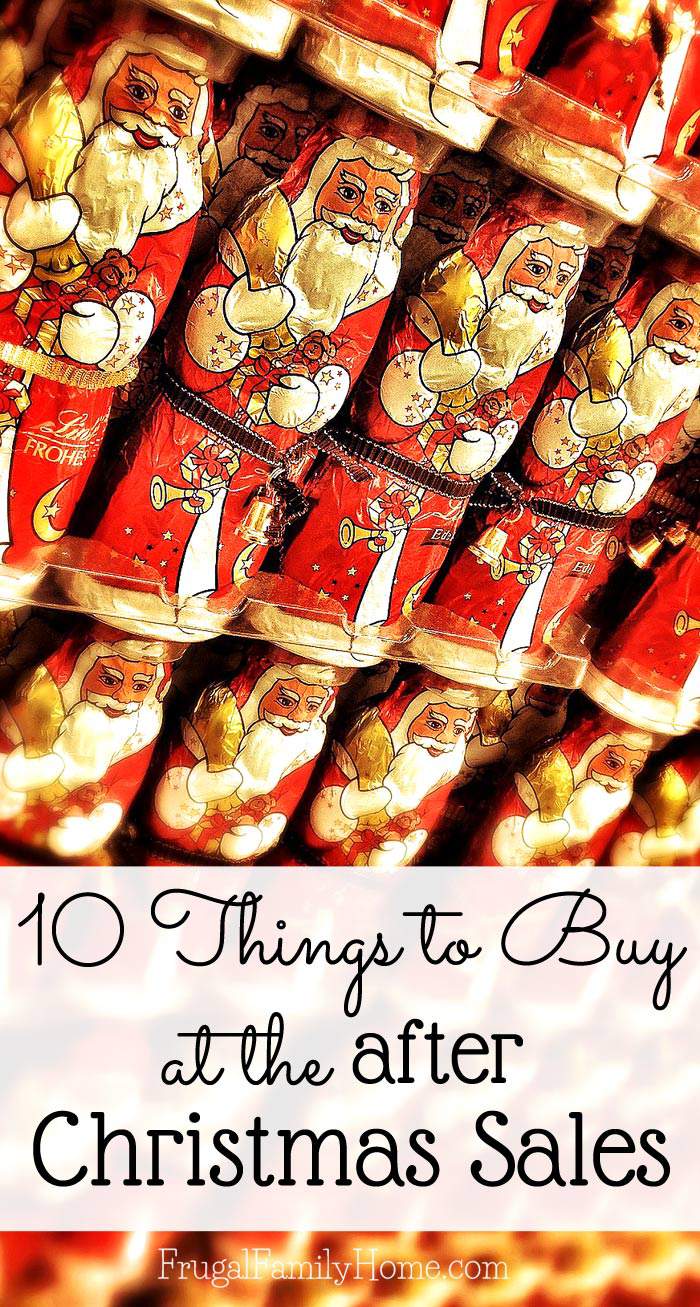 If you've saved a little money in the budget for after Christmas sale here's a few items you can usually find a good deal on at the after Christmas sales. I like to plan ahead and save out a little money for items I find that are good deals.
10 Things to Buy at the After Christmas Clearance Sales
Christmas Trees
With my husband being allergic to Christmas trees, we always have an artificial tree. I've always purchased mine, which has been two of them over our married life, at the after Christmas sales.
I paid $5 for one and $15 for the other not too bad consider they end up lasting about 12 years each. Twenty dollar over twenty-five years isn't too bad.
Christmas Ornaments
It's also a great time to look for specialty Christmas ornaments. If you usually purchase ornaments for kids or grandkids in your family each year, the after Christmas sale could net you a savings of 50% or more.
You'll also be ahead on your Christmas shopping for next year too.
Christmas Decorations
After Christmas is the perfect time to look over your Christmas decorations and see which ones are looking a little worn out.
If you need to replace some decorations getting them at the after Christmas sale will save you so much money over waiting until next year.
Clothing
Believe it or not, the after Christmas sale is a great time to find good deals on clothing. Often the overstock from Christmas will go on sale and you can find some great buys on clothing. Although if you need winter coats they are usually a better deal in January.
Wrapping Paper, Ribbons, and Bows
Stocking up on Christmas wrapping paper, bows, and ribbons are great at the after Christmas sales, but also look for more neutral color combinations that can be used the whole year through.
Wrapping paper with other colors besides red and green can work well for birthday gifts or for other occasions. Ribbons and bows will be at rock bottom prices and they can be used at other times too. Also, be sure to look for tissue paper and neutral gift bags.
Christmas Gift Boxes and Paper Products
Another great item to purchase at an after Christmas sale is gift boxes for homemade candy and cookies. These can be expensive at full price but a great deal after Christmas.
You can also pick up paper products, like napkins, paper plates and paper cups at good prices. Red can work for a Valentine's Day party and there are often neutral colors, like creams, gold, and silver available too.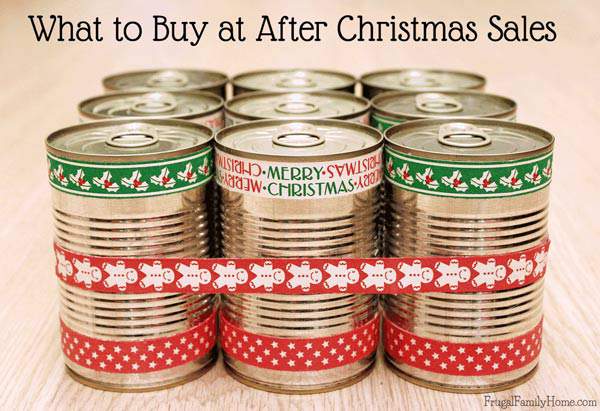 Toys
Often toys are put on sale after Christmas it's a great time to find some really good deals on toys. Think about the birthdays you have coming up and stock your gift closet with some great toys at great prices too.
Food
After Christmas is a great time to get great deals on wine, cheeses, Christmas packaged food items and seasonal flavored items, like egg nog, and mint chocolate milk.
Also, look for candy and baking or candy making items that can be used in recipes, like kisses and M&Ms.
Christmas Cards
There are such good deals on Christmas cards at the after Christmas sales. The selection might not be as good as before Christmas, but I can always find a few I like.
Boxed Gift Sets and Christmas Scented Beauty Products
Those gift boxes of perfume, makeup, or beauty supplies are usually on sale after Christmas. If it's a product you normally use, buy it in the gift boxes for yourself at a discount.
Or think about who might enjoy one of these as a birthday gift later in the year. I also have found great deals on bath bombs, lotions, and body wash.
Any of these items in Christmas scents is sure to be on sale at deep discounts. I know the sugar cookie scented lotion is one of my favorites.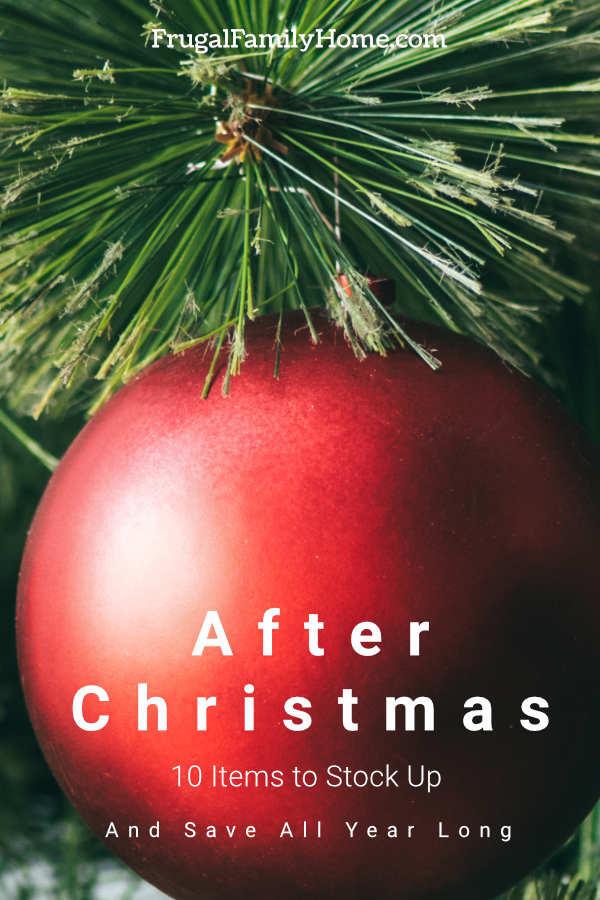 Budget for After Christmas Sales
While getting these good deals is always nice, be sure to stick to your budget when shopping an after Christmas sale. It's nice to be able to stock up at rock bottom prices but if you are doing it on credit you won't be saving near as much.
If money is too tight to shop after Christmas sales this year, you can always start saving for next year now. I like to start thinking about next Christmas early and set a little money aside each month starting now for next year.
I make a budget for Christmas and in my budget, I also include after Christmas sales money too. It's not too early to start saving.
What do you like to purchase at the after Christmas sales?