I was thinking there are so many frugal things I do just out of habit that save my family money it might be good to share them in a post every now and then. It's all those little things you do each day or each week that can really add up over a year to save you a bunch of money.
I'm hoping as I share these you'll find something new to try to see if it helps your family save money too. I'm sharing three things I did this week to save us money. Not all of these things saved us money this week but they will as the year goes on.
Keep the Thermostat Down
This is one money saving idea we use all winter long. For some of you the thought of keeping your thermostat as low as we do will make you shiver. We keep our thermostat at 61 degrees. Which means most of the time our house hovers right around there unless I build a fire in our wood stove. This past week we didn't have a fire but we didn't have really cold weather either. It was quite nice with temperatures in the 60's one day but our normal temperatures this time of year is around 50 degrees.
Now if the thought of having your house at 61 degrees is just way to cold, pick a temperature that is closer to what you normally have your house at. If you set your thermostat at 72 try 70 and see how it goes. I've read the rule of thumb is you'll save 3% for every degree you turn your thermostat down. Just two degrees could save you 6%.
Batch Cook
This week I noticed we were out of cooked ground beef in the freezer. I like to batch cook ground beef ahead of time and have it ready to go in the freezer for ground beef dishes like the twice baked taco potatoes and the slow cooker hamburger dish I made this week. By batch cooking the ground beef, I not only made enough for those two dishes but I also have some tucked away for the new couple of weeks. This one saves me more in time than money but they say time is money.
I usually cook ground beef 5 pounds at a time in my electric skillet. It works great not only for batch cooking ground beef but also cooks pancakes very evenly. Because my electric skillet is bigger than the skillets that go on the stove I find I can get this job done quicker with my electric skillet. Plus in the summer when it's too hot to cook in the kitchen it's portable and can be used outside or in the garage.
The beef I used was from the freezer which I purchased at my rock bottom price of $2.49/lb when it was on sale. Which is so much better than the usual $3.49 or $3.99/lb that is the normal price when not on sale. Purchasing the beef ahead of time, I purchased 20 pounds when I found the sale, saved me $2 to $3 this week. It might not seem like much but add it up over the course of a year and that's $104 to $156 dollars depending on the price of ground beef, which is much more than pocket change.
Started Working Our Organic Garden
Each year now for years we've had a backyard garden. We don't have a huge lot, just an average-sized city lot but we grow many of our own vegetables, a few berries, and herbs too. The weather was so great I decided to prep one of the garden beds so I'll be ready to plant my sugar snap peas in about a week. At the same time, I'll plant a few seeds of lettuce too. While this activity didn't save me any money this week as I start harvesting the produce out of the garden in weeks to come it will save me. Plus we will have delicious organic veggies to eat at a fraction of the cost of the produce from the store.
My Frugal Fail
The one fail I had this week was a wasted trip to the bank. I went to open a business checking account and after waiting 20 minutes, I found out that because the business registry's website was down for maintenance I couldn't open an account. So another trip will be needed. I wasted time and gas that day. While I had no idea they would need to check the business registry website for opening the account you can bet I'll be sure to check to make sure it's up before I make the trip to the bank next time.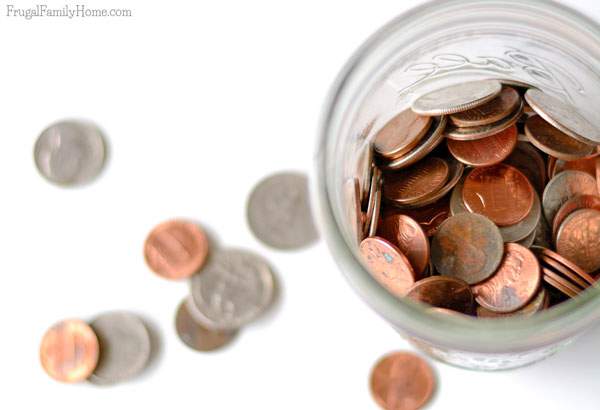 Even though my frugal things for this week didn't save me a bunch of money this week it's the small acts every day that build on one another that can help you really save. The meat bought on sale saved me money and batching cooking it saved me time. The garden planted today will this spring and summer save money on our grocery bill. And finally turning down the heat saves us a little each month.
What frugal things did you do this week to save you money now or in the future?
[signoff]