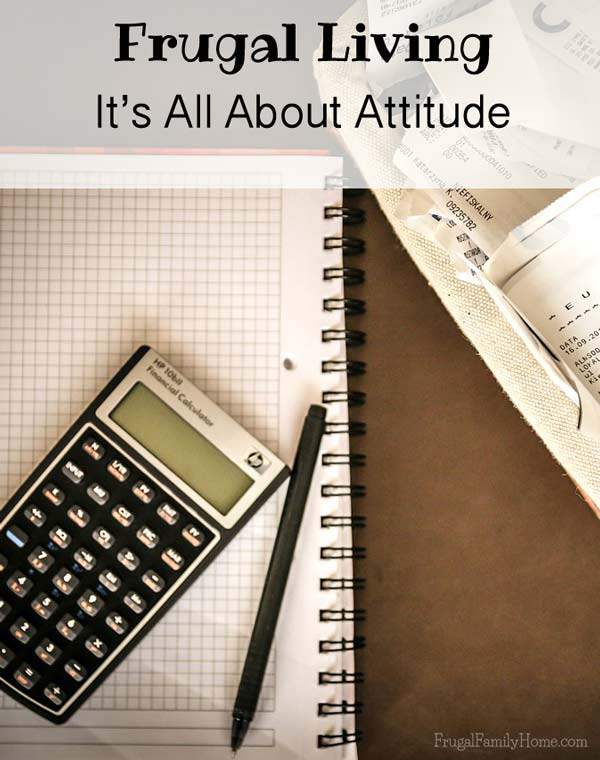 Sticking to a budget can be a hard task. Watching your spending isn't fun for most people. Frugal living when you have to live that way can be discouraging.
So what's a person to do when they don't have the money to spend like they would like to, but instead need to live a frugal lifestyle. That's when it all comes down to attitude.
Choices to Make
Spending money can be fun. It can be really fun, if you have worked and saved for a while to purchase something you really, really want. The item purchased after so much hard work is more likely to bring you joy.
An item purchased on credit, when you don't really have the money to spend can bring joy for a short time. But then also heartache, when the bill comes due and there isn't enough money to pay for it.
Frugal living comes down to small choices each and every day.
Do you buy the item or do you wait?
Do you go out for entertainment or entertain at home?
Every little choice brings you closer to your goal of being out of debt or farther away. It all comes down to choices, each and every day.
Attitude Impact
If you think of your frugal living as an adventure, then it can be fun.
When I first started cutting back on my spending. It wasn't fun at all.
But I had a goal in mind, to be a stay at home mom. To show my husband, I could cut my spending and make a lasting change. When I started looking at saving money as a challenge instead of a weight put on me, everything changed.
That little attitude adjustment, made a huge impact, on how I looked at things.
Instead of going shopping, I would shop my closet to see how I could use what I had.
Instead of eating out, I would look for easy to make recipes to make at home.
Instead of being discouraged by the steady little progress we were making on getting out of debt, I would look for new ways to save even more.
That small little change in my attitude from seeing frugal living not as a burden but as an adventure, made a lasting change in me.
My husband at times, will accuse me of being more cheap than he is, which I find as a great compliment. Since I used to be the spender in family.
Now it's your turn
How do you see frugal living?
Is it an adventure to see how little you can live on or is it a burden to be tolerated until you can get out of debt?
How could you look at frugal living differently to make it more fun and adventurous, instead of a burden to be tolerated?
See all the posts in this series,