Beef can be one of the most expensive items on your grocery list when you shop. But there are a few ways you can save money on beef. I'm sharing the tips and tricks I use to save money on beef.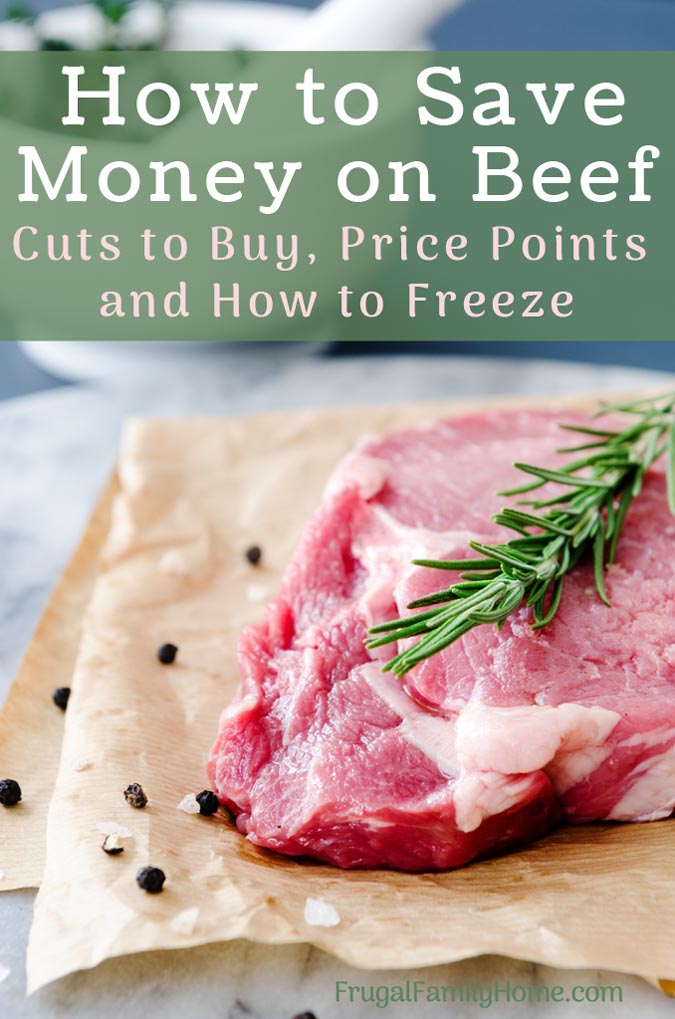 How to Save Money on Meat
There are many ways to save money on meat. You can eat less meat. You can buy different cuts of meat. Buy the meat in bulk. You can buy meat on clearance too.
But I've found a few ways we save on meat to stretch your grocery dollars.
It involves purchasing cuts of meat that you can use in many recipes. Knowing the best price on that cut of meat. So you can stock up when it hits the low price.
And how to keep the meat or prep ahead the meat so it's easy to prepare when you are ready. Because if you end up throwing out the meat because it's freezer burnt, that doesn't save you any money.
Saving Money on Beef and Why I Don't Buy Clearance or Marked Down Meat
I've seen the tip to purchase meat on clearance repeatedly. But I don't buy clearance meat.
It's not because I'm concerned it won't be good. It's because I can usually purchase a different cut of meat at less per pound than the clearance meats.
Most of the clearance meats are more expensive cuts. Cuts of meat I wouldn't normally purchase and when I look at the price per pound, often the meat on sale that week will beat that price.
If you'll be purchasing clearance meat be sure it is a better buy than the other meat that might be on sale.
If you like a more expensive cut of meat, then clearance or markdown meat can save you 50% off or more.
Now let's talk about saving on beef…
Ways to Save Money on Beef, Price Points for Beef and How to Freeze Beef
I purchase a few different cuts of beef. I know what price per pound I want to pay and I have recipes I use them in. They also are cuts that go on sale or are less expensive.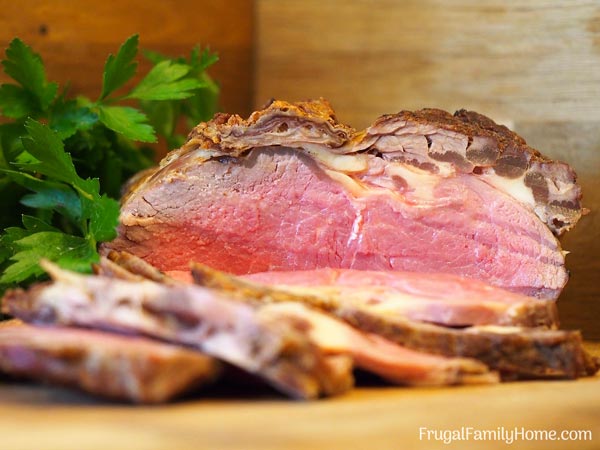 The Cheap Cuts of Beef I Purchase are…
Roasts,
What I Buy…

Top Round Roast or Rump Roast
I will buy as much as my budget will allow when these types of roast hit $2.99 a pound to $3.49 a pound. This doesn't happen very often in my area so we don't eat roasts much but when they do, I will purchase 4-5 at a time.
Chuck Roast
I don't really like chuck roast unless I'm preparing it in the slow cooker. Chuck roast is tougher and has more fatty pieces mixed throughout. If you are preparing them in the slow cooker, then they turn out good, but I haven't had good luck cooking them any other way.
The price of chuck roast is usually around $3 per pound. I'd rather wait to get a better cut of roast than pay that much for chuck roast. If I can get them at $2.49 or less, I take the chance on this roast.
How to Prep Roasts for the Freezer
I usually freeze these whole straight from the store in the packaging it was sold in. I will drop the packaged roast into a gallon sized freezer bag and freeze. That's it.
I do little prep on roasts before I cook them. Thaw, sprinkle with seasoning and add to the slow cooker.
If I want some sliced beef for stir fry, I will unpackaged the roast and cut off a portion, about a pound and slice thin.
Or if I want beef for stew, I'll cut the roast into diced chunks and divide into 1 pound portions. Then place those into a freezer bag, label, and freeze.
Now let's move onto steaks…
I will start by saying we are not that picky about steak. I'm sure there are some great cuts of steak but we are happy with the less expensive steaks I get on sale.
What Cuts of Beef To Buy…

Petite Sirloin Steak
This is my steak of choice to purchase. I regularly get it on sale for $2.99 per pound. They are great grilled for a quick summer dinner.
London Broil
This I think is technically classified as a steak.
It's a cheaper cut of beef and can be really good. At around $2.49 to $2.99 a pound, it's a good buy too. Pretty lean with a little fat on the outside.
This cut of beef is good grilled with a little dry rub on the outside. It's also great in the slow cooker with tomato sauce and onions or cream of something soup. It cooks up so nice and fork tender in the slow cooker.
How to Freeze Steaks
When I purchase steaks, I will purchase a big package and divide them when I get home. I divide the steak into two big steaks or 4 small steaks for our family of 4. I like the steaks to be about 4-5 ounces each.
I might rub them with a dry rub if it's grilling season, or slice them thinly and then freeze. These thin slices of steak are nice to pan fry for on top of a salad on a hot summer day.
For the London Broil, I cut it into 1 to 1.5-pound portions for our family. Wrap and place in a freezer bag. Because I usually grill or prepare these in the slow cooker not much needs to be done with them.
Ground Beef
Ground beef is a staple we don't like to be without. I used to purchase ground turkey or chicken but then the price when up so I stick with ground beef now. Unless I can get the ground turkey or chicken for less than the ground beef.
Some of the links below are my referral links. When you purchase through them I can make a little money at no extra cost to you. Thanks for the support. See my disclosure policy for more information.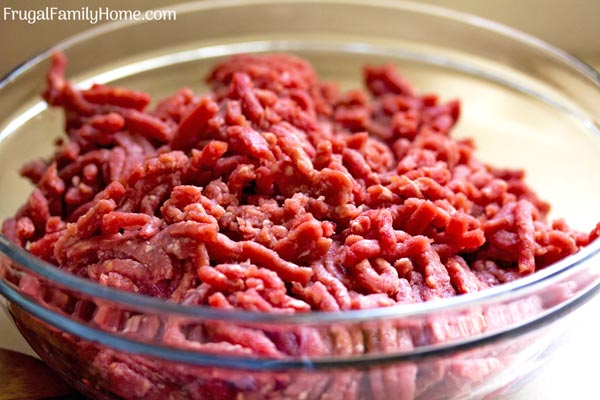 Where to Purchase Ground Beef at the Best Prices
Costco can be a great place to purchase ground beef. You must purchase a big package. Costco doesn't sell smaller packages. But if you are going to freeze it, that shouldn't be a problem.
A restaurant supply store is another great place to purchase ground beef. You have to buy a bigger amount but if you'll be freezing it it shouldn't be a problem.
The ground beef can be packaged into 1 pound packages so all you need to do is add it the freezer. No prep work needed. Or you can cook a few pound and have it ready and waiting in the freezer to thaw and add to your recipe.
On sale at the grocery store is where I purchase most of my ground beef. I purchase 20 pounds when it hits my price point. This is a manageable amount for our family of 4 to eat in about 3 months.
Ground Beef Price Points
I purchase ground beef when I can find it at $2.49 a pound to $2.99 a pound. My buy price used to be $1.99 a pound. But in the last two years, I've only seen ground beef reach that price once. So I had to adjust my buy price up.
I can regularly find ground beef at one of the three places listed above at $2.99 a pound at least once a month. But about 3 times a year I can get it on sale for as low as $2.49 a pound.
How to Freeze Ground Beef
When I purchase 20 pounds of ground beef, I will prep it for the freezer in a few ways.
5 pounds goes to making hamburger patties. My son loves burgers and I make 1/4 pound burgers for the freezer.
5 pounds is prepared as meatballs. I make a big batch of freeze friendly meatballs and make 120 meatballs at a time. I cook them and then freeze them for quick and easy dinner.
3 pounds is prepared in the form of meatloaves. I usually stick with making mini meatloaves as my family eats them better than a standard meatloaf. I will mix, shape, and cook the meatloaves. Once they are fully cooled, I'll wrap them individually and then place them in a freezer bag.
7 pounds of ground beef is prepared as cooked ground beef.
To make the cooked ground beef stretch I will finely chop/puree onions, celery, and a few carrots in the food processor. I add it to the ground beef as I cook it. Those vegetables blend right in and no one knows they are getting a little fiber too.
Once the ground beef is cooked and drained I package it in 3/4 pound package or about 10 ounces each. I don't add seasoning to it. This makes it more versatile for everything from casseroles to tacos. I add the seasoning I want when reheating it.
That gives us a good assortment of different dishes to make from our 20 pounds of ground beef. If prepping ahead the ground isn't for you, you can also divide the ground beef into 1 pound package.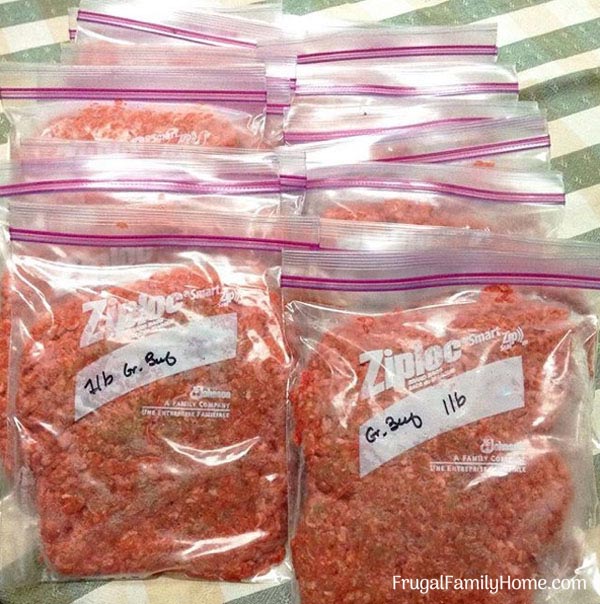 How to Freeze Ground Beef without Cooking for Quick Thawing and Space Saving
I've found that 1 pound of ground beef fits in a quart sized freezer bag. I place the beef in the bag and then flatten it out to fill the whole bag. Press the air out and then seal.
When you make a thin layer of ground beef in the bags, they thaw quickly and they also can be stood up on end once frozen to take less space in the freezer. And it's quick and easy to prep the beef for the freezer this way too.
I hope these tips to save money on beef were helpful. I know we've been able to save by adjusting the cuts of beef we purchase. Then purchasing those cheaper cuts of beef when on sale and stocking up.
I've found a little prep work on the day of purchase can really help you get dinner done more quickly on those busy nights when the kids are hungry and whining.
What tip could you add to the list above on how to save money on beef? What price point do you purchase it? I'd love to have you add your comments below. I know they will be helpful to others.
Find More Money Saving Ideas…
How Ibotta Works a step by step tutorial