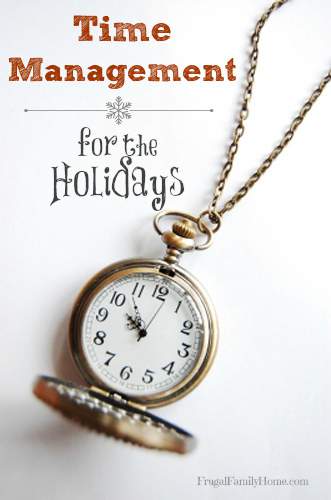 Now that you have your menu plan and your gift budget all set up, it's time to talk about time. During the holiday season there are always lots of things to do, people to see, shopping to be done and homes or parties to visit. But it's also important to pick and choose the best things to do so you don't get caught up in the whirlwind the holidays can bring and just end up exhausted and stressed.
Grab the Calendar
Before all the invitations and obligations start to pour in grab your calendar and plan one evening a week of down time. Down time would be time you can just be home and do something fun or relaxing as a family. It's best to set aside some down time before the holiday season even starts, to help keep the stress level down. Once you have that day set on your calendar don't move it or push it off. I think you will look forward to those nice quiet evenings in the middle of the hustle and bustle of the season.
Wrap as You Go
While it might be fun to have a present wrapping party all in one day, I have found that if I wrap gifts as I purchase them, then wrapping them doesn't become a chore. I usually get my Christmas gift wrap out and ready right around Thanksgiving, so I am prepared when the first gifts are purchased. Sometimes I even have some wrapped before Thanksgiving. 🙂
Plan Time for Making Homemade Gifts
If you plan on making gifts for some of the people on your gift list be sure to set aside some time each week to work on those gifts. I find I can get some knitting or crocheting done in the car when my husband is driving, so I will pack it in my purse. I will also work on projects while I am watching TV or listening to the radio. But be sure to make a plan to work on those projects each week. You don't want to be up until midnight the night before Christmas desperately trying to finish a gift.
Be Choosey
You don't have to go to every holiday party or every neat event that comes along. Try to find activities during the holiday season that your family will really benefit from or find things that you can do to bless others with your time. It's great to get caught up in the holiday season but if you try to do everything, nothing will be done very well. So be sure to evaluate each opportunity that comes along.
How do you best manage your time during the holidays?
[signoff]
Image courtesy of Aleksa D / FreeDigitalPhotos.net