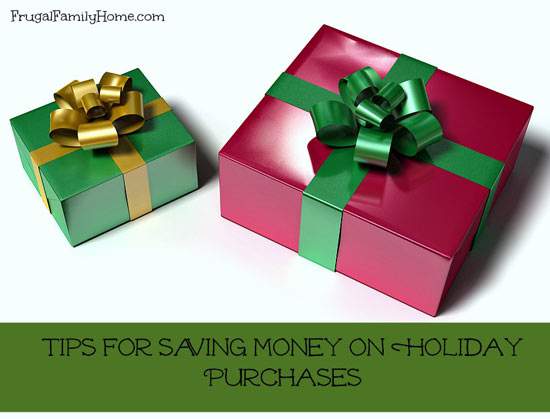 Once you have your holiday gift list ready, it's time to start shopping. Today I'm sharing some tips on how to save money during the holiday season.
Shop Early, if you can
If you can get a head start on your shopping even before Black Friday you can often get some great buys. One year we wanted to purchase our daughter a laptop. I knew I wouldn't be able to shop the Black Friday sales so I decided to be on the lookout for a good priced laptop before then. I actually found a great deal on a laptop for my daughter and the price I paid even beat the Black Friday deals that year. So plan to shop early if you can.
Do Your Research
Be sure to research the best prices before you purchase. If you know what the usual or good price of the gift you are looking to purchase is, then you will know when you see a great buy on it. I like to check online and the sales ads to see where I can get the best buy. I tend to purchase early if I find a good deal. There is always the chance that you will see a better deal later but there is also a chance the item may become super popular and you will end up paying more.
Check out Black Friday and Cyber Monday Deals
I'm not a Black Friday shopper. I used to be before having kids but getting up in the dark hours after cooking all day the day before just doesn't appeal to me. My husband always has to work on Black Friday so I usually don't go to any of the sales. But if you are one who shops Black Friday deals then be sure to check out the Black Friday deals I have posted. I will add more as they come out so be sure to check back often or better yet just subscribe to the blog updates by email.
If Black Friday isn't your cup of tea like me, then you might consider shopping online on Cyber Monday and taking advantage of all the deals to be had online. I love being able to shop from the comfort of my home online and have the gifts show up in just a few days to a week at my doorstep.
Pay Cash
Last but not least I find the best way to save on holiday gifts is to use cash. There's something about counting out and handing over the bills that makes you consider your purchases. I like that I can't overspend too.
If you will be shopping online at certain stores you might consider purchasing gift cards to make those purchases. Sometimes you can even get some deals on them, such as purchase $20 in gift cards and get $5 gift card free, or $25 in gift cards for just $15.
What's your best tip to save money during the holidays?
[signoff]