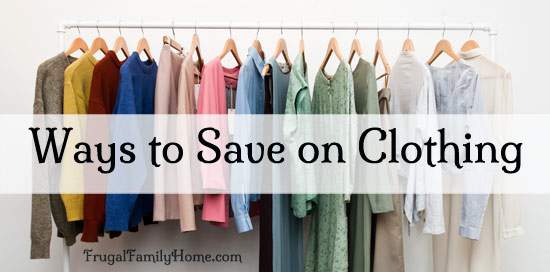 Ways to Save Money on Clothing,
This year, I will be sharing ways to save money. To start out this series I wanted to share some great ways to save money on clothes. After all, we all need clothing to wear.
Buy items at end of the season
At the end of each season is a great time to purchase for next year. This time of year is a great time to get coats, hats, gloves, boots, sweaters and other winter wear items on clearance.
I usually will buy one to two sizes up for my kids for the following year. For myself I try to replace any worn out items with new ones on clearance. I can almost always find great deals on sweaters and coats at this time of year. I try to steer away from any trendy items and keep with more classic looks so they will be sure to fit into my wardrobe.
Shop Consignment or Thrift Stores
Shopping thrift stores for good deals on clothing is a little different from shopping end of season sales. I find that I can get the best deals on well out of season items.
So in the winter, I try to shop for summer clothing. Since no one is looking for shorts or sundresses in the winter, I can usually find a good selection of items. In the summer is the best time to purchase winter clothing, such as long-sleeved items, coats and long pants.
Also be sure to ask when your local thrift shop's next half price sale day is. One of the thrift stores in our area has a regular half price day sale and I try to shop then, to save even more. Other stores, like Goodwill will have a color code that is reduced for that day or week. Be sure to ask if you don't see a sign.
Shop Garage Sales and Estate Sales
Garage sales can be a great place to find clothing really cheap. If you are lucky enough to find a sale where the sizes are just right for your family, you can get some great deals on clothing.
Estate sales can be a good place to find items too. I once found some great old aprons and other vintage clothing at great prices. Be sure to ask if they will be having a half price sale the last day of the sale, it may be worth your while to come back and  save even more. But you also risk missing out on the item.
When shopping estate sales be sure to look to see if the seller has an email sign up sheet. I signed up with a few sellers and get photos with advance notice of sales sent right to my inbox. Having this information ahead of time helps me decide if I really want to go to the sale or not.
Those are just a few ways to save on clothing. What's your best strategy for saving on clothing? I would love it hear about it in the comment below.
Be sure to check out my budget page for help with setting up a budget and other money-saving ideas.