I know this way to save money may seem a little odd. But if you have ever really considered how much granola you are getting in those little boxes from the store, you'll know what I mean when I say you can save by making your own granola. A 10-12 oz box of granola can end up costing me $1.59 on sale at a discount store. At a regular retailer it can cost more than $3 a box.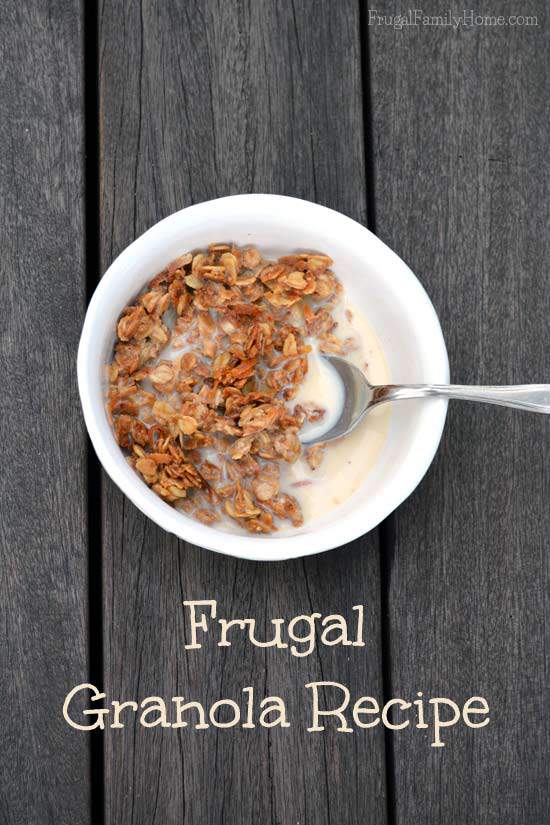 If you haven't tried making your own granola before don't worry, it's super easy to do. Even if you can't bake, you can make inexpensive granola for your family. It's basically measure, mix, bake and cool. Really easy right?!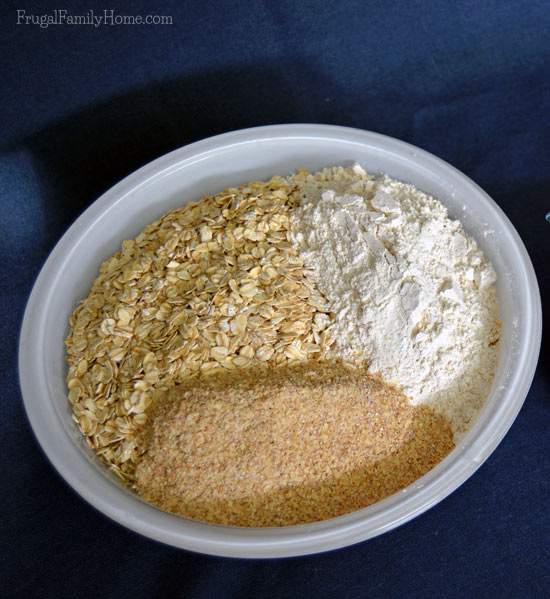 First you need to pick your ingredients. There are basic ingredients I include in each of my granola recipes. Oatmeal, honey, brown sugar, coconut, oat or wheat bran, oil and whole wheat flour. All of these ingredients are relatively inexpensive to purchase and making a basic granola is your best budget bet.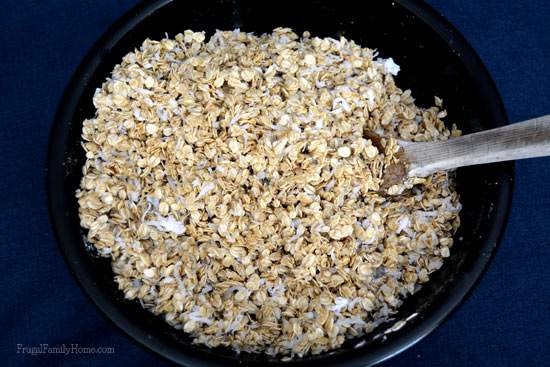 You can skip the brown sugar and add all honey, but since honey is more expensive, I always mix the two for my sweetener. I'll also add some vanilla to each batch. It makes the granola smell great while baking and taste great too.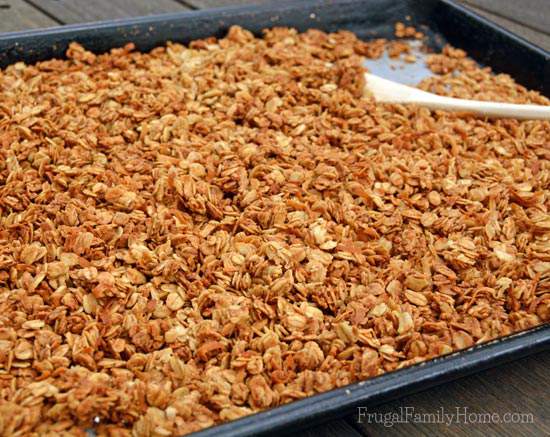 You can add in some more expensive items like dried fruit and nuts. But that will increase the cost of your granola. I dry my own fruit, so we usually have some sort of dried fruit to add. But I will usually skip the nuts. Unless I have some sunflower seeds on hand and then I throw those in too.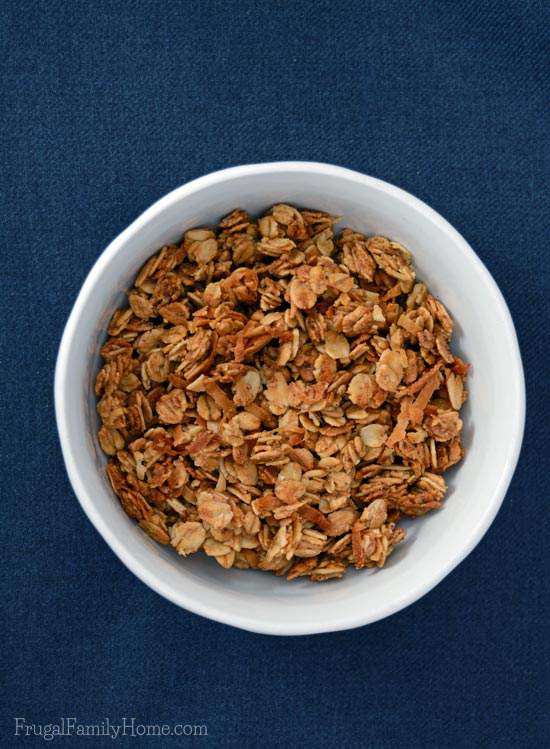 I mix all the wet ingredients together. Then mix all the dry ingredients in a big bowl. Stir well to combine the mixture. Spread the mixture on two cookie sheets and bake for about an hour. I usually switch the top cookie sheet with the bottom cookie sheet about half way through baking. Just to make sure the granola gets baked evenly.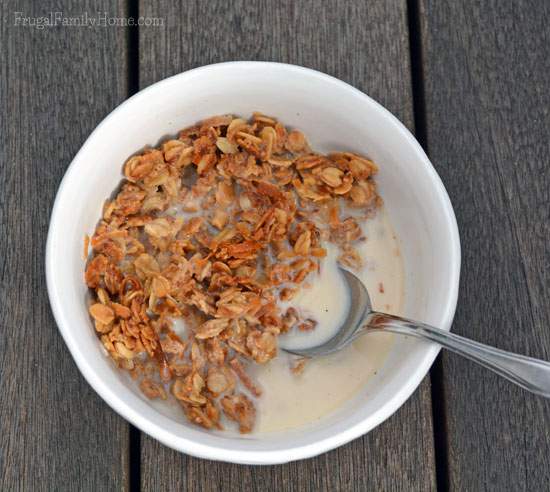 This granola makes a great eat out of your hand snack. A wonderful hearty breakfast with some milk added or on top of a bowl of yogurt. So the next time you are craving some granola skip the cereal aisle at the store and give this recipe a try. I'm sure your family will love it.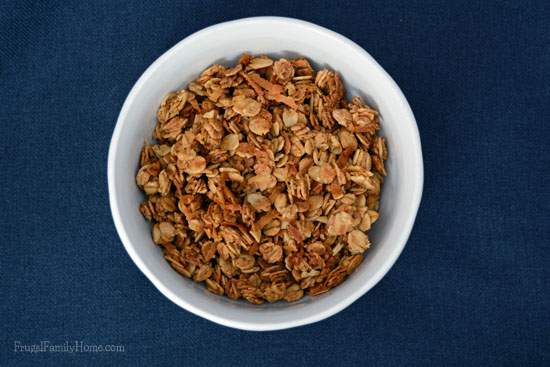 Frugal Granola Recipe
This granola recipe is only 18 cents per serving.
Ingredients
2/3

cup

Oil

canola, olive or melted coconut

2/3

cup

Honey

1

cup

Brown Sugar

10

cups

Old Fashioned Oats

1/2

cup

Water

1

cup

Whole Wheat Flour

1/2

cup

Wheat Bran or Oat Bran

1 1/2

cups

Coconut

1

tablespoon

Vanilla

Dried Fruit and Nuts

optional
Instructions
Mix all the wet ingredients and brown sugar in a bowl. If your honey is a little hard to stir in, microwave for a minute or two.

Mix all the dry ingredients in a large bowl.

Add the wet ingredients to the dry ingredients and stir well.

Spread the oat mixture onto two cookie sheets.

Bake 300 degrees for 1 hour. Switching the position of the cookie sheets in the oven half way through baking. Stir as needed to keep browning even.

Once nicely browned, remove from oven and let cool.

Store in an airtight container.