What's the best way to save money? Well other than not spending money, saving on the items you buy is the next best thing. And this list can help you know what to buy in February while those items are at their rock bottom prices.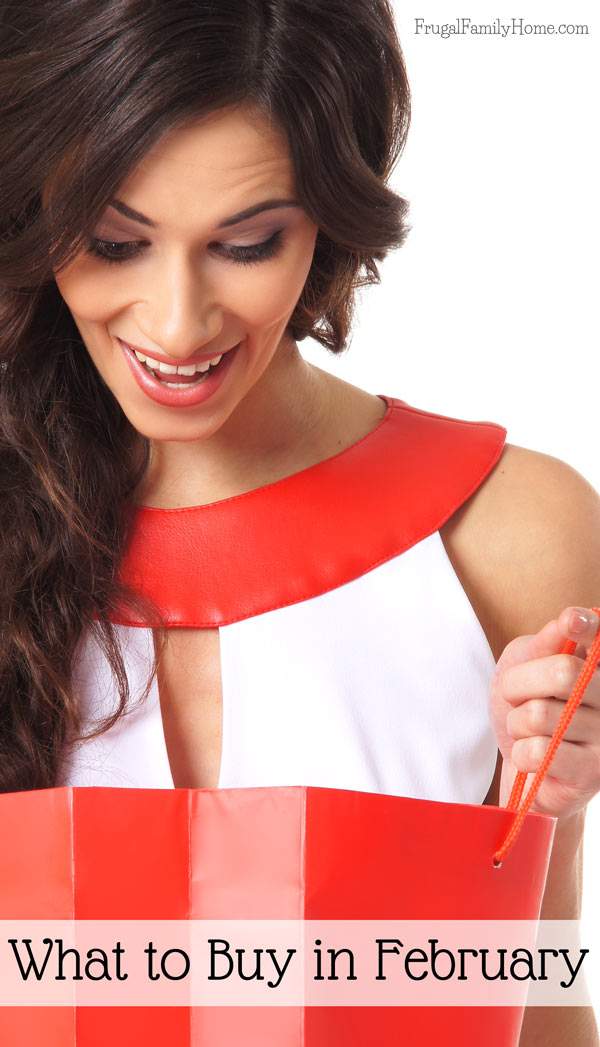 Stockpiling is one way I save a bundle of money each year. And it's not something I do once and forget about, it's something I do each month all year long.
When you know when items will be at their rock bottom prices each month you can stock up and really save a bundle.
Stocking up when you don't have to pay full price, can really keep your spending down. And you'll have items already at home when you need them too.
Here's what's sure to be on sale in February.
What to Stock up on in February
Electronics and Smartphones
February is a great time to find deals on electronics. Things like televisions, cameras, and GPS systems. Smartphones are usually on sale this time of year too.
You should be able to find a great deal if you missed the deals in November and December.
Winter Coats
As people start to think about spring the winter items start to go on sale. If you need a new winter coat for yourself or for your kids it's a great time to get a high-end coat for a lot less.
If you are purchasing for your kids be sure to buy up a size or two. Don't forget to look for hats, scarves, and gloves. This is also a great time to purchase those smaller winter wear items for stocking stuffers for next Christmas.
Bedding and Towels
This is a great time to replace those old worn out towels. There's sure to be a great President's Day sale and you should be able to find some great buys then.
I like to grab a set of sheets for all of our beds and a few new towels so I can rotate out the ones that are looking a little worn.
Don't throw those old towels away. Cut them up for rags that can be used over and over instead of paper towels and save even more.
Furniture and Home Decor
February is a good time to find good deals on furniture and home decor. As new styles come out the current stock needs to be sold, making for some great buys.
If you are looking to replace furniture pieces this month would be a good time to shop.
Valentine's Day Gifts
You won't find great deals until after the 14th but after the 14th, you can find some great deals on Valentine's Day gift items like jewelry, perfume, and other gift items.
Don't forget to look for chocolates too. You can score some high-end chocolate on the cheap after the 14th. And plain red items like tablecloths, napkins or plates can be used for birthday parties or even Christmas.
Tax Software
Yes, the tax season deadline is still a while away but you can get a great deal on tax software this month. Get your taxes done early and save too.
Baby Items
Be on the lookout for baby sales. Now would be a good time to purchase baby items if you have baby showers coming up later in the year.
Supplements
After the new year, new you fitness craze has died down from last month, this month is a great time to save on health-related items, like supplements.
Be on the lookout for markdown and scoop up the savings. Plus since most supplements last a while you can stock up and save without having to worry about them going bad.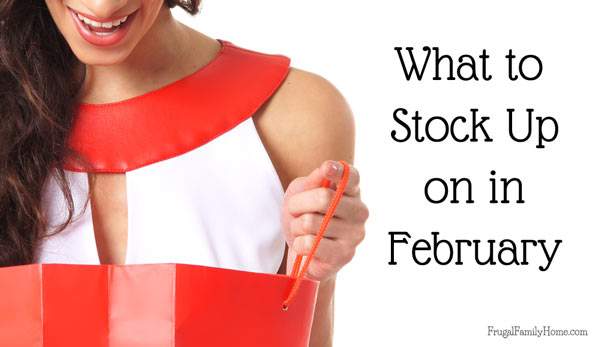 Canned Foods
Did you know that February is canned food month? It is and it's a great time to find great buys on canned goods. The great thing about canned goods is you can stock up and you don't have to worry about them going bad.
Be on the lookout for sale of items you use often and when you see a great price grab up enough to last you a while and save.
Hot Breakfast Items
Since it's also Hot Breakfast month watch for sales on oatmeal, Malt-o-Meal and you might even find deals on frozen pancakes and waffles too. Although making those at home yourself, is usually a better deal. I make my own pancakes and waffles for the freezer.
If you find regular plain rolled oats on sale you can make these oatmeal yourself.
Snacks
There will be deals on snacks for football game parties. Even if you won't be having a party, you should be able to snatch up saving on party type foods like, chips, dips, frozen pizzas, and pop.
Produce on Sale in February
This month there should be good deals on citrus fruit like, oranges, grapefruit, tangerines, and lemon. Other items to look for at good prices are potatoes, onions, sweet potatoes, bananas, cabbage, lettuce, avocados, broccoli, and winter squash.
What's something you are looking to shop for in February?
Save More Money by…
Making a Budget (steps to set up a realistic budget)