Struggling with
What to Cook for Dinner?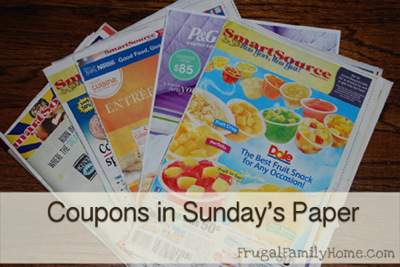 In this Sundays paper you will find 2 coupon inserts,
One Smart Source insert
One RedPlum insert
Here are a few coupons to be included
$1.50/2 House Foods Organic Tofu
$1/1 Irish Spring Body Wash
$2/1 Neutrogena Face Makeup
$.50/1 Palmolive Dish Detergent
$2/1 Similac Large Powder
$1/1 Sure Deodorant
$1/1 Dove Body Wash
$.50/1 Dawn Dish Detergent
$1.50/1 Wisk Laundry Detergent
$1/2 Wonka Jelly Beans
Go here to see the full list of coupons.
Disclosure: This post contains my referral links.