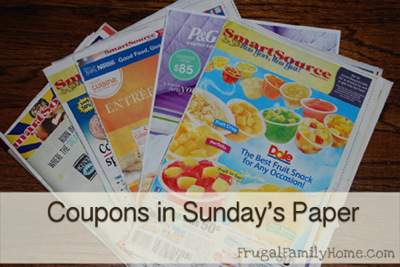 Sunday Paper Coupons
In this Sunday's paper there will be two coupon inserts,
Smart Source Insert
Red Plum Insert
Here's a few coupons included
$1/1 Alberto VO5 Salon Series shampoo or conditioner
$2/1 Blink Tears
$2/1 Neutrogena Ultra Gentle Daily Cleanser
$1/1 Post Great Grains
$1/1 Post Shredded Wheat
$1/1 Speed Stick, Lady's Power or Men's Power
$1/1 Zest Body Wash
$1/1 ZzzQuil
$2/2 Right Guard Xtreme or Total Defense 5 Body Wash or Bar
$2/2 Right Guard Total Defense 5 Deodorant
$5/1 Gillette Mach 3 Sensitive Razor
B2G1 Free Dial, Dial for Men or Tone Body Wash
$.75/1 Bar S Deli Shaved Meat
$1.50 Arrowhead Mountain Spring Water 8 oz Multipack
Go here to see the full list of coupons.
This post contains my affiliate links. You can read my disclosure policy here.