Want to get started with knitting cables? This knitted cable hat pattern is the perfect one to try. I love how easy the cable pattern was to make once I got my gauge right.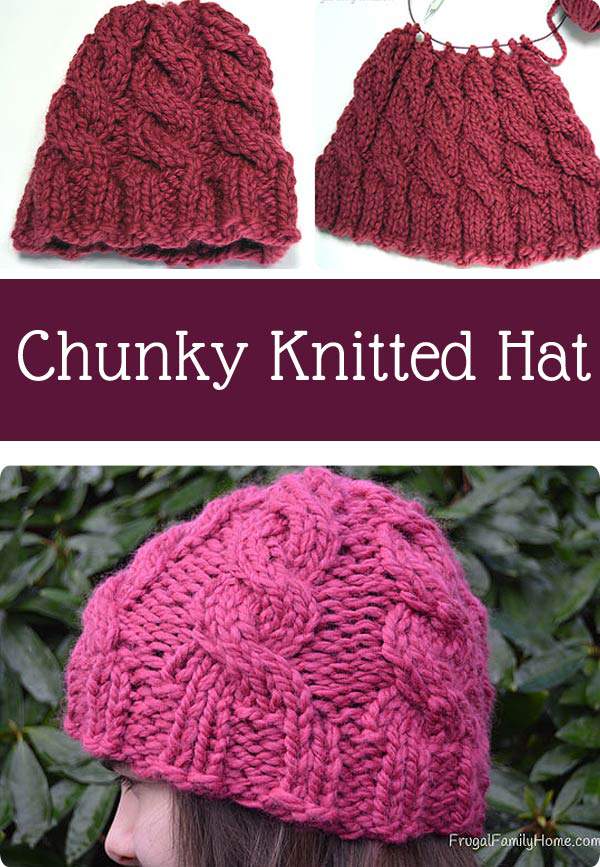 I really should start projects like this in the summer and not in the middle or end of winter. I really should be working on some summer projects now so they are ready when the season is here. But I saw this pattern for a Cable Knit Hat and wanted to give it a try. I know we have enough rainy weather ahead that this hat will get some use before summer gets here.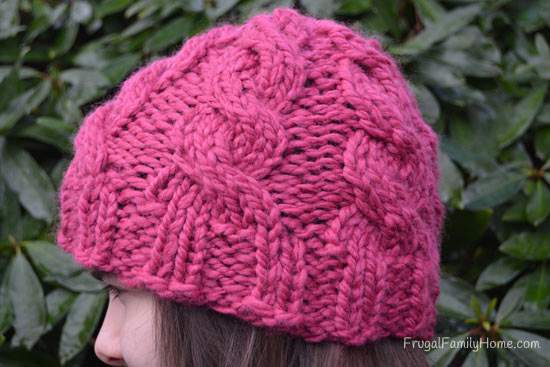 When I printed off the pattern I mistakenly thought it was a faux cable knit pattern. You see I had never tried to knit cables before. I had only done cables with a faux cable pattern, which technically isn't a cable at all, but looks like one. It wasn't until I was already into the pattern that I realized my mistake.
Lucky for me I had already bought a set of cable needles a while back. I must have known eventually I would need them. So I decided to take the plunge and just give it a try.
I was really surprised at how easy it is to knit cables. Well, at least the cables in this hat pattern are easy. I'm glad they were easy too since I had to restart the pattern 3 times. Well, four if you count the extra time I had to restart the cast on, since I didn't allow enough yarn to cast on all the stitches.
Yes, you read that correctly 4 times, I had to restart. At first I thought the bulky yarn I purchased from Knit Picks was going to work. But the gauge was way off. I purchased some Lion Brand Wool Ease yarn as the pattern called for and started again.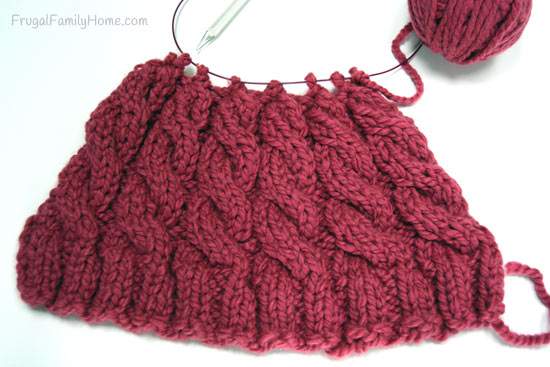 I used the knitting needle size the pattern called for, size 13,  thinking because I usually knit loose they might make the hat a little big but I knew it would be fine. To my surprise the size 13 needles made the gauge too small. So again I took it out and found my size 15 needles.
Once I got enough of the pattern knitted to check the gauge again, my gauge was still a little small. I didn't have any bigger knitting needles so I thought I would just chance it at this point. After all the gauge was really close.
All of that to say if you use the pattern I linked to and if you knit tightly you might need a much bigger set of knitting needles. 🙂
Once I was underway with the pattern for the third time, it went really quite quickly. I think by this final time, I was so familiar to the pattern, it only took me a couple of hours to complete the hat. I love the instant gratification of getting  a project completed so quickly.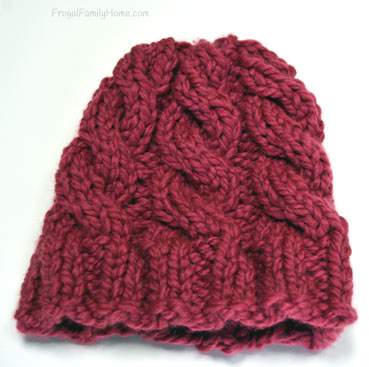 The hat fits really nice, not too snug at all. I also love the feel of the yarn, so nice and soft. The cables give the hat a nice texture too. If you haven't tried cables before, this would be a perfect pattern to start with, because it's not too complicated and it a quick one too.
What craft projects have you been working on lately?
[signoff]
 Just so you know, some of the links in this post are my referral links. When you use them I can make a little money at no extra cost to you. For more information please see my disclosure policy.