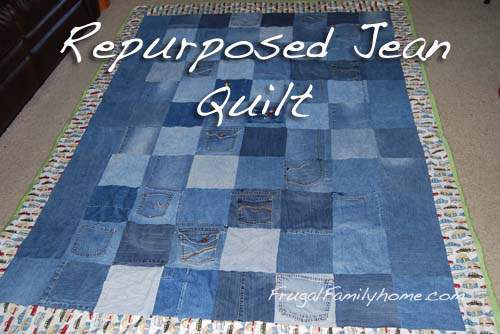 I like to reuse or repurpose as many things as I can. I am hoping to post once a month a project that I made using mainly recycled items. This month's item is a quilt for my son's bed.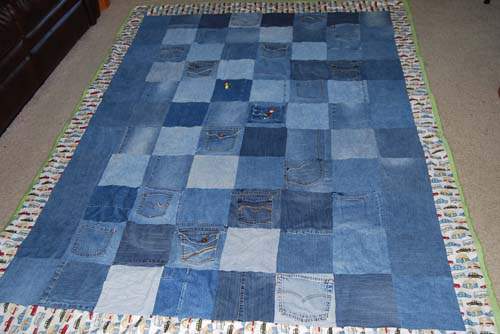 I had saved up all of our jeans I can't remember how many pairs I started with but it was quite a few. Then I cut them into squares all the same size. I tried to cut out any special stitching or pockets to be included in the square when I could. Since the denim once sewed together into the quilt top was fairly heavy already I chose not to put any batting into this quilt. I used a twin sized sheet for the backing that I paid $5 for at Wal-Mart. I bought a yard of the car fabric at the local fabric store with a 40% off coupon and paid about $6. I already had the thread so the whole quilt ending up costing $11 total out-of-pocket.
After I had the quilt assembled and pined all the layers together I free hand machine quilted it. This took about 3 hours to complete. Here is an up close picture so you can see the quilting.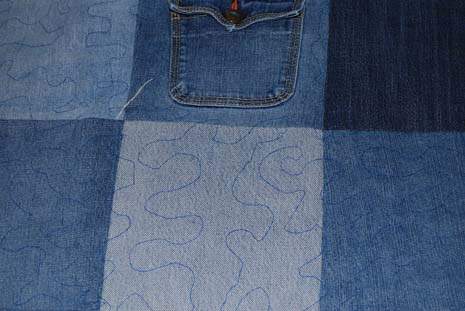 I used the backing fabric to roll over as the binding to finish the quilt with a 3 step zigzag stitch.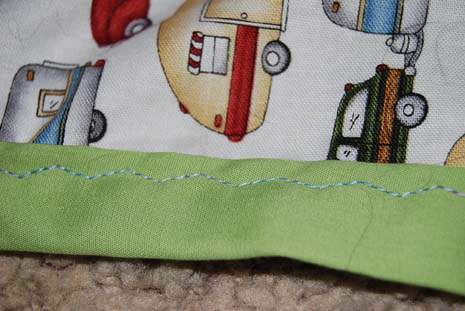 My son is really happy with his quilt. He is now asking for some curtains to be made next.
So next month's project maybe curtains made out of old jeans. I have a few pairs left to use but I am not sure that will be enough to make a set of curtains for his room.
Have you repurposed an item recently? I would love to hear about it.
[signoff]