Struggling with
What to Cook for Dinner?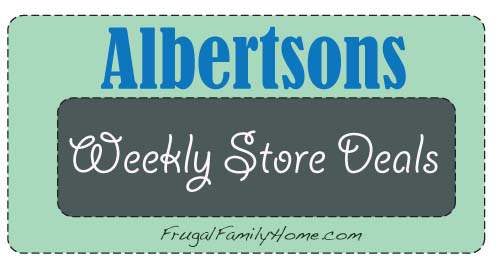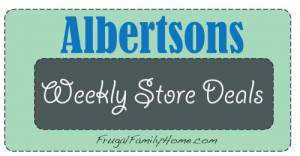 This week Albertsons has a few good deals on some Thanksgiving dinner items.
Produce
Celery $.50 each
Yams $.48/lb
Dole Salad Blends $2.50 each
Navel Oranges $.99/lb
Farm Stand Jumbo Russet Potatoes 8-lb bag $2.99 each
Ocean Spray Cranberries 12 oz $1.99 each
Use $1/1 coupon Facebook
Pay $.99 each
Meat/Dairy
Honeysuckle White Turkey 16-24-lb $.39/lb or under 16-lb $.49/lb with $50 purchase
Honeysuckle White Turkey Breast $1.79/lb
Signature Boneless Whole or Half Ham $2.99/lb
Albertsons Spiral Sliced Ham $2.69/lb
Hormel Cure 81 Boneless Whole or Half Ham $3.99/lb
Use $2/1 coupon
Pay ???
Hormel Pepperoni $3.50 each
Use $1/2 coupon
Pay $3 each
Hillshire Farm Links or Smoked Rope Sausage $3.50 each
Use $1/2 coupon 10/14 RP or $.55/1 coupon
Pay as low as $2.95 each
Wild Harvest Organic Milk half-gallon $3.50
Tillamook Sour Cream $1.69 each
Use $.75/1 coupon
Pay $.94 each
Grocery
Swanson Broth $.59 each
Use $.40/3 coupon 11/4 SS
Pay $.46 each
Del Monte Canned Vegetables $.69 each
Use  $.50/4  green bean coupon
Pay $.57 each
Campbell's Condensed Cream Soup $.79 each
Use $1/4 coupon
Pay $.54 each
Stove Top Stuffing $1 each
Carnation Evaporated Milk $1 each
Use $.50/2 coupon 9/30 RP (regional) or here
Pay $.50 each
Del Monte Fruit Cocktail $1 each
Nabisco Crackers $1.99 each
Use $.75/2 coupon 11/11 SS (regional)
Pay $1.62 each
Lays Chips $2 each
Birdseye Steam Fresh Vegetables $1 each
Use $.50/2 coupon 11/18 SS
Pay $.75 each
Pillsbury Pie Crusts $2.50 each
Use $.50/2 coupon 11/18 SS or here
Or use $.60/2 coupon or here
Pay as low as $2.20 each
Pillsbury Crescents or Cinnamon Rolls $2.50 each
Use $.40/2  crescents coupon 11/18 SS
Or use $.50/2 crescents coupon or here
Or use $.40/2 Sweet Rolls coupon 11/18 SS or here or here
Pay as low as $2 each
Pillsbury Toaster Strudel $2 each
Use $.50/2 coupon 10/7 GM or 9/9 SS
Pay $1.75 each
Progresso Recipe Starters $1.34 each
Use $.50/1 coupon or 11/4 SS
Pay $.84 each
Dreamfield Pasta $1.50 each
Use $.55/1 coupon 9/9 SS or $1/1 coupon
Pay as low as $.50 each
C&H Sugar 4-lb $2.99 each
Use $.75/2 coupon 11/4 RP (regional) or $1/2 coupon
Pay $2.49 each
Lipton Recipe Secrets Soup Mix $1.25 each
Use $.60/2 coupon 11/11 RP
Pay $.95 each 
Save $5 wyb 10 products (prices are after discount)
Powerade or Fuze $.50 each
Rhodes Warm-n-Serve Rolls $1.99 each
Use $.55/1 coupon 11/11 RP
Pay $1.44 each
Cool Whip $.99 each
Ocean Spray Juice $1.99 each
French's French Fried Onions $2.49 each
Use $1/1 coupon 11/4 SS
Pay $1.49 each
Best Foods Mayonnaise $2.99 each
Use $1/1 coupon 11/11 SS (regional)
Pay $1.99 each
Knorr Homestyle Stock $2.49 each
Use $1/1 coupon 11/11 RP or $1.35/1 coupon
Pay as low as $1.14 
Starbucks Coffee or K-Cups $6.99 each
Use $3/2 coupon or here or here
Pay $5.49 each
Mrs Butterworth's Syrup $1.99 each
Use $.55/1 hangtag
Pay $1.44 each
Betty Crocker box Potatoes $.99 each
Use $.50/2 coupon 11/18 SS or 10/7 GM or here
Pay $.49 each 
Lipton Tea and Honey $2.49 each
Use $.60/2 coupon 11/11 RP
Pay $2.19 each
Pam Spray $2.49 each
Use $.30/1 coupon 10/21 SS (regional)
Pay $2.19
Vlasic Pickles $1.99 each
Use $1/1 coupon 10/7 SS (if this variety is included)
Pay $.99 each
Redi Whip $1.49 each
Rice a Roni or Past a Roni $.79 each
Charmin Basic Toilet Paper or Towel Paper $5.49 each
Use $.25/1 coupon 10/14 PG or 10/28 PG
Pay $5.24 each