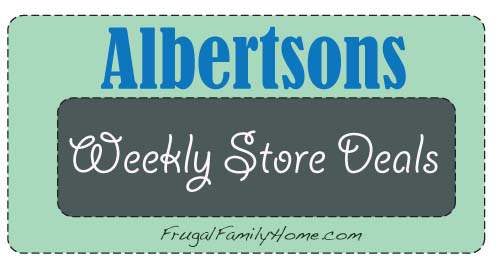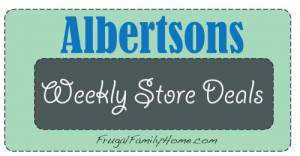 This weeks Albertsons deals. This week is round-up and save all week. Each manufactures coupon will be rounded up to $1 value (exclude electronic and save to card coupons). This is a great time to use your $.25 and $.50 coupons to save even more. This sale goes from 8/15 to 8/21.
Meats
Albertsons chicken drumsticks or thighs or whole fryers $.99/lb
Chicken leg quarters $.89/lb sold in 10 pound bag
Produce
Fresh peaches or nectarines $.99/lb
Red Cherries $2.99/lb (Fred Meyer price $1.48/lb this week)
Groceries
Colgate Toothpaste $.99 with in ad coupon
Use $.40/1 coupon 8/12SS
Coupon round-up to $1
Free
Honey Bunches of Oats $2 each
Use $1/1 Facebook coupon or $1/2 coupon 7/8SS
Pay $1 each
Yoplait Yogurt cups $.50 each
UseSAVE 40¢ ON SIX when you buy SIX CUPS any variety Yoplait® Yogurt or $.40/6 7/8SS
Coupon round-up to $1
Pay $.33 each
Best Foods Mayonnaise 16.5 oz $2.99
$.70/1 coupon 7/29RP
Coupon round-up to $1
Pay $1.99 each
Hillshire Farm Deli Select Lunchmeat 16 oz $5.99
Use $.55/1 coupon or $.35/1 coupon  8/12RP
Coupon round-up to $1
Pay $4.99 each
Nature Made Vitamins B1G1 Free
$2/1 coupon Fish Oil 7/29SS
$2/1 coupon any vitamin All You August
$1.00 off any Vitamin B Nature Made
$1.00 off any Vitamin D Nature Made
$2.00 off any Nature Made Fish Oil 
Pay ??
Some of the links in this post contain my referral links. You can read my disclosure policy here.