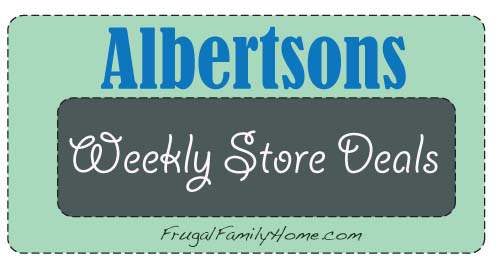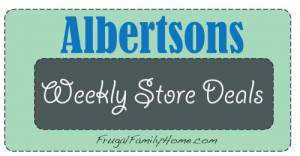 This week at Albertsons you can get Bone in chicken breasts for $.99/lb and Free Ken's dressing after coupon. Here are the deals I found. These sale prices start tomorrow and run until August 28.
Produce
Blueberries 1pt $2
Cucumbers $.59 each
Whole Seedless Watermelon $.59/lb
Green Cabbage $.69/lb
Meats/Dairy
Albertsons Split Bone-in Chicken Breast of Thighs $.99/lb
Pork Loin Assorted Chops $1.99/lb
Horizon Organic Milk 8 oz $1 each
Chobani Yogurt Cups $1 each
use $.30/1 coupon (if included in sale)
Pay $.70 each
Grocery
Kellogg's Cereal $1.88 each (must buy 4)
Use $1/3 coupon or $1/3 coupon
Or Use $1/2 coupon
Pay as low as $1.38 each
Ken's Dressing $1 each
Use $1/1 coupon 8/12SS
Free
Ajax Dishwashing Liquid $1each
Carlita Soft Taco Tortillas 10ct $1 each
Cheetos, Doritos, Ruffles, Fritos or Frito Lay Dip $2 each (must buy 4)
Sundown and Nature Made Vitamins B1G1 Free
Coupons to Use
Sundown $1/1 coupon
$1.00 off any Vitamin B Nature Made
$1.00 off any Vitamin D Nature Made
$2.00 off any Nature Made Fish Oil
$1 off any Nature Made
$2 off CoQ10 Nature Made
Albertsons Frozen Vegetables 12-16 oz $1 each
Buy 10 items Save $5 (must buy 10 to get prices listed)
Minute Maid 10 pack Juice Box $2.99
Use $.75/1 coupon
Pay $2.24
Skippy Peanut Butter $1.99 each
Use $.35/1 coupon
Use $.75/2 coupon
Pay as low as $1.62 each
Maxwell House Coffee $7.49 each
Look for $1/1 peelie
Pay with Peelie $6.49 each
Planters Nuts $5.49
use $1/1 coupon 6/24SS
Pay $4.49
La Victoria Salsa $2.49
Use $1/2 coupon 8/19SS
Pay $1.99 each
Ziploc Containers or Bags $1.99 each
Use $1/2 coupon 8/12 SS
Use $1/2 Containers Coupon
Pay $1.49 each
 Some of the links in this post are my referral links. You can read my disclosure policy here.