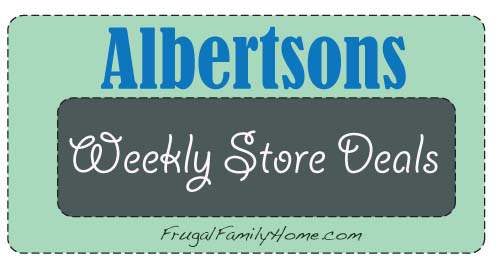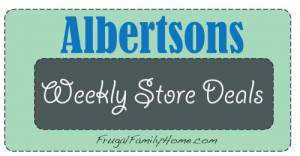 This week at Albertsons I found chicken on sale, with a good price on Brown and Serve sausage. Powerade on sale too. Just not to many good deals this week at Albertsons.
Produce
1-lb Strawberries $1.99
Dole Salad Kits $1.99 with in ad coupon (limit 4)
5-lb Farm Stand Potatoes $1.49
Dole Classic Iceberg Salad $1.49 each
Meat/Dairy
Albertsons Chicken Drumstick or Thighs $.99/lb
Pork Loin Back Ribs $2.99/lb with in ad coupon
Dannon Oikos Yogurt $1 each
Use $1/2 coupon 9/16SS
Pay $.50 each
Grocery
Lean Cuisine $2.50 each
Use Buy 4 get 1 free coupon 9/16SS
Pay $2.00 each
Powerade $.69 each
Kellogg's Cereal $2.99 each
Buy 4 Save $3 on Milk
Use $1/2 coupon 
Or $1/2 Mini Wheats coupon
Or $.50/1 Frosted Flakes coupon 
Pay as low as $2.49 each and get $3 off milk
4-lb Essential Everyday Granulated Sugar $1.99 with in ad coupon
Nestle Morsels $1.99 each with in ad coupon (limit 2)
Tillamook Shredded Cheese $1.99 with in ad coupon (limit 4)
Herbal Essence B2G1 Free
Use Buy 1 Shampoo and get 1 Conditioner or Styler Free 9/16 coupon
Pay ???
Betty Crocker Cookie Pouch $2 each
Buy 2 get Hershey's Harvest Candy free
Use $.50/1 Cookie Pouch coupon
Or Use $.60/1 Cookie Pouch Coupon
Pay $1.40 each and get the Hershey's Harvest Candy FREE wyb 2
 Some of the links in this post are my referral links. You can read my disclosure policy here.