Struggling with
What to Cook for Dinner?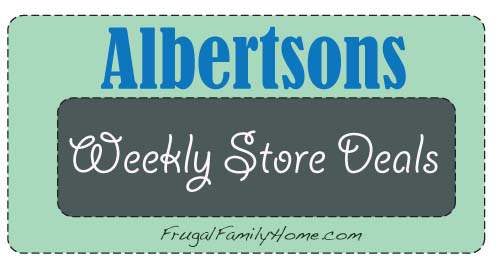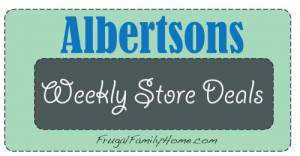 This weeks deals at Albertsons. This week Albertsons is rounding up coupons to $1. So coupons valued at $.25 or more will be rounded up to a dollar. Coupon valued at $.24 or less will be quadrupled. Coupons valued at a $1 will be taken at face value. So this is a great time to get extra saving with the lower cents off coupons.
Daily Deals
You must spend $10 after all coupons to get these Daily Deal Prices.
Wednesday
Pepsi 2 Liter $.77 each (limit 4)
$1/2 Pepsi Next coupon Pepsi moments 9/30
Or Crush Product $1/3 Pepsi Moments 9/30
Pay as low as $.27 each
Thursday
Kraft Mayo or Miracle Whip $1.88 (limit 2)
Friday
Culinary Circle Flatbread, Ultra Thin or Rising Crust Pizza $2.99 each (limit 2)
Saturday
Gatorade or G2 Sports drink $2.99e each (limit 1)
Sunday
Nabisco Snack Crackers $1.39 each (limit 2)
Monday
Tropicana Orange Juice $3.99 each (limit 4)
Tuesday
Doritos $1.55 each (limit 2)
Meats/Dairy
Albertsons Whole Fryer or Chicken Thighs $.99/lb
Pork Loin Chops or Shoulder Style Ribs $1.99/lb
Pork Spareribs $2.99/lb
Yoplait yogurt $.50 each
Use $.50/8 coupon 10/7GM or $.40/6 coupon
Pay as low as $.33 each after coupon round up
Produce
Dole Classic Romaine or Just Lettuce or Spinach $2 each
Gala or Golden Delicious apples $.88/lb
Green Pepper s$.79 each
Barlett Pears $1.29/lb
Grocery
Cereal Mix and Match $1.75 each wyb 4
Honey Nut Cheerios $1.75 each
Use $.50/1 coupon or $1/3 coupon 10/7GM
Pay $.75 after round up
Golden Grahams $1.75 each
Use $.75/1 coupon or  $1/3 coupon 10/7GM
Pay $.75 after coupon round-up
Multi-Grain Cheerios $1.75 each
Use $.75/1 coupon or  $1/3 coupon 10/7GM
Pay $.75 after coupon round-up
Pepsi Soft Drinks 2 Liter 3 for $4 must buy 3
Use $1/3 crush product Pepsi Moments 9/30
or $1/2 pespi next Pepsi moments 9/30
Pay as low as $1 each
Gevalia Coffee $5.99 each
Use $1.50/1 coupon 9/23SS
Pay $4.49 each
V-8 Smoothie or Fusion Juice $1.99 each
$1/1 Smoothie coupon 9/9 SS
$1/2 Fusion coupon 9/23 SS
Pay as low as $.99 each
Campbell's Condensed Soup $1 each
Use $.40/3 coupon or $.40/3 coupon
Pay $.67 each after coupon round-up
SpaghettiO's $1 each
Use $.50/5 coupon
Pay $.80 after round-up
Better Oats $1 each
Use $1/3  coupon
Pay $.67 each
Quaker Instant Oatmeal $2.50 each
Use $1/2 coupon 9/30 Pepsi Moments or Oct'12 All You
Pay $2 each
Green Giant Boxed Vegetable $1 each
Use $.60/2 coupon
Pay $.50 each after coupon round up
Michelina's Entrees $1 each
Use$1/5 coupon
Pay $.80 each
Carlita Soft Taco Tortilla $1 each
Grands Biscuits, Crescents or Cinnamon Rolls $1 each
Use $.40/3 Grands coupon
Use $.40/2 Cinnamon Roll coupon
Use $.40/2 Crescents coupon
Pay $.50 each after round up
Colgate Toothpaste $1 each
Use $.75/1 9/30 SS
Free after coupon round-up
Skittles bagged Candy $2.25 each
Use $1/2 coupon
Pay $1.75 each
Nestle Fun Sized Bagged Candy $2.50 each
Use$1.50 off when you buy THREE bags of NESTLÉ® fun size or Halloween candy
Pay $2 each