Struggling with
What to Cook for Dinner?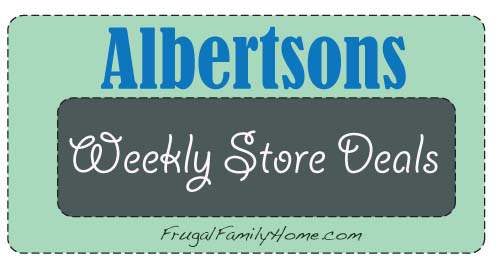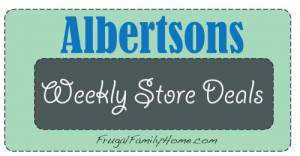 This week at Albertsons, ham is on B1G1 free along with quite a few other deals thanks to the coupon round-up.
How the coupon round-up works, any manufacture coupon valued at $.25 to under a $1 will be rounded up to the value of $1. Manufacture coupons valued at $.24 or less will be quadrupled. Coupons valued at a $1 or more will be redeemed at face value.
Here are the deals I like this week
Produce
Farm Stand Iceberg Lettuce $.88 each
Navel Oranges $.58/lb
Bartlett or Bosc Pears $.99/lb
Red Delicious Apples $.99/lb
Meat
Hormel Cure 81 Ham B1G1 Free (5.99/lb)
Albertsons Butt Portion Smoked Ham $1.49/lb
Grocery
Progresso Soup $1.25 each
Use $1/4 coupon 11/11 SS or here
Pay $1 each
Ritz Crackers $1.99 each
Use $.75/2 coupon 11/11 SS
Pay $1.49 each
Best Foods Mayonnaise $2.99 each
Use $1/1 coupon 11/11 RP
Pay $1.99 each
Tillamook Brick Cheese 2-lb loaf $5.49 each
Starbucks Coffee $6.99 each
Use $3/2 coupon 12/2 SS
Pay $5.49 each
Michelina's Entrees $.69 each
Use $1/5 coupon
Pay $.49 each
Eggland's Best Eggs $2.50 a dozen
Use $.50/1 coupon 9/30 SS
Pay $1.50 each after round-up
Hormel Chili $1.25 each
Use $.55/2 coupon 11/11 SS or here
Pay $.75 each after round-up
Keebler Club Crackers or Cheez-Its $2 each
Use $1/2 Club crackers coupon 11/11 RP or here
Or $1/2 Cheez-its coupon
Pay $1.50 each
Carnation Evaporated Milk $1.25 each
Use $.50/2 coupon 9/30 RP
Pay $.75 each after round-up
Save $3 wyb 10 Participating Products (prices are after discount of $3 taken)
Prego Pasta Sauce $1.70 each
Use $.40/2 coupon 11/4 SS
Pay $1.20 each after round-up
Dixie Ultra Plates or Bowls $1.70 each
Use $1/2 coupon 11/4 RP
Pay $1.20 each
Pert Plus Shampoo or Conditioner $2.20
Use $1.50/2 coupon
Pay $1.45 each
C&H Sugar Brown or Powdered $2
Use $.50/1 coupon 11/4 RP
Pay $1 each after round-up
C&H Granulated Sugar 4-lbs $2.30 each
Use $.50/1 coupon
Pay $1.30 each after round-up
Hershey's Baking Chips $2.30 each
Use $1/2 coupon 11/11 SS
Pay $1.80 each