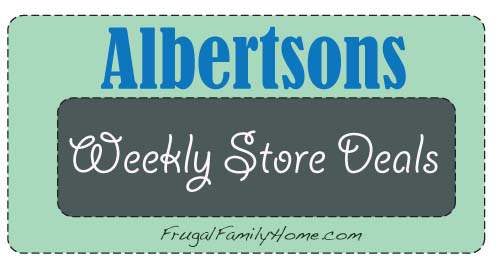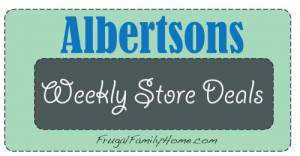 This week at Albertsons there a few good deals on meat this week with a buy one get one free sale. There are also daily deals each day this week.
Daily Deals prices only good for one day
Wednesday 9/12
Wish Bone Salad Dressing or Dole Salad Blends (limit 2 of each) $.88 each
Thursday 9/13
Ragu Pasta Sauce $.88 each (limit 2)
Friday 9/14
Best Foods Mayonnaise $1.88 each (limit 2)
Saturday 9/15
Quilted Northern Double Roll Bath Tissue 12 ct or Brawny Paper Towels 8 ct $3.77 (limit 2)
Use $1/2 8/19RP Brawny coupon
Pay$$3.27 each
Sunday 9/16
Breyer's Ice Cream $1.88 (limit 2)
Monday 9/17
Green Giant Canned Vegetables $.39 each (limit 6)
Tuesday 9/18
Betty Crocker Hamburger Helper $.77 each  (limit 4)
Use $.75/3 coupon
Pay $.52 each
Meat/Dairy
Buy One Get One Free Sale Mix or Match
Albertsons Boneless Skinless chicken breast B1G1 Free
Albertsons Beef Chuck Steak or Roast boneless B1G1 Free
Albertsons Beef Bottom Round Steak or Roast  boneless B1G1 Free
Pork Loin Center Cut Chops or Roast boneless B1G1 Free
Yoplait Yogurt $.50 each
Use $.30/1 Simplait coupon Or $1/8 coupon or $.40/6 coupon
Pay as low as $.20 each
Produce
Cantaloupe $.99 each
Iceberg Lettuce $.99 each
Grocery
Smart Ones Entrees $1.88 each
Use $3/10 coupon or Here or Here or $4/10 coupon
Pay as low as $1.48 each
Nabisco Crackers $2.99 each
Use $1/2 coupon
Pay $2.49 each (better buy this week at Safeway and Fred Meyer)
Stayfree Pads $3 each
Use $1/1 coupon
Pay $2 each
Homelife Bath Tissue 4 roll $1 each
Whisper Soft Facial Tissue $1 each
Carlita Soft Taco Tortillas 10 ct $1 each
Palmolive Dishwashing Liquid $1 eachH
Buy 10 items Save $5 instantly(prices listed are after discount taken)
Kraft Macaroni and Cheese Premium or Shapes $.99 each
Oreo Cookies $1.99 each
Use $1/2 coupon  or $.75/2 coupon 8/5RP
Pay as low as $1.49 each
Del Monte Fruit Cups $2 each
$1/2 coupon 8/12RP
Pay $1.50 each
Kraft Homestyle Mac and Cheese $1.79 each
Use $.75/1 coupon 8/26SS
Pay $1.04 each
Barilla Meals $1.99
Use $1/1 coupon Facebook or $1/1 coupon 8/12SS or $1/1 coupon
Pay $.99 each
Kauai Coffee $6.49 each
Use $2/1 coupon 8/26 SS
Pay $4.49 each
Aquafresh Toothpaste $.99 each
Vanity Fair Napkins $1.99
Use $1/2 coupon 6/12RP
Pay $1.49 each
Some of the links in this post are my referral links. You can read my disclosure policy here.