Have you tried ClickList? My recent grocery haul was shopping at Fred Meyer, which is a Kroger affiliate store, and I got my groceries in about 5 minutes. Let me tell you how.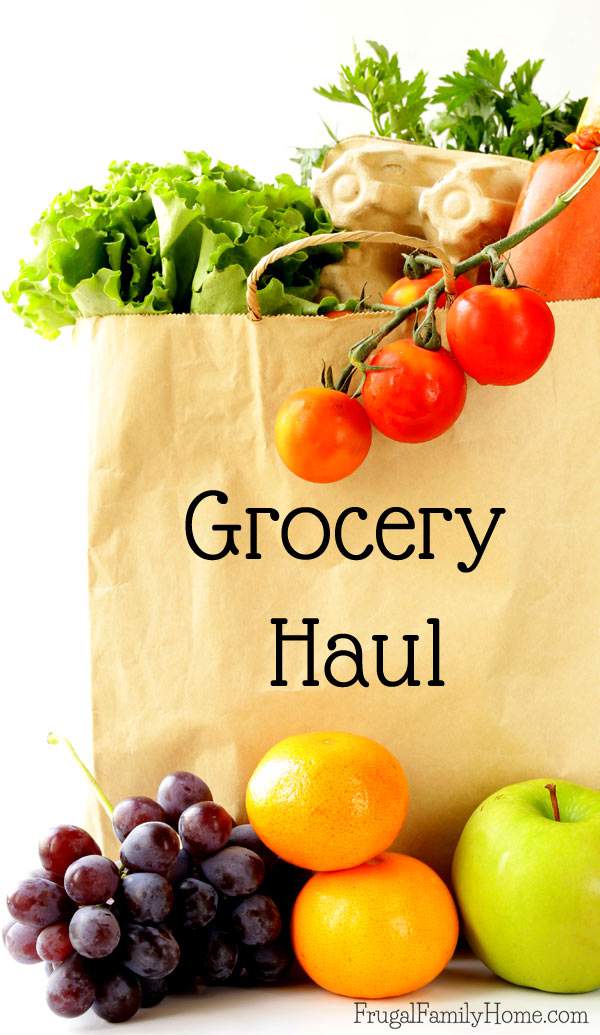 The last few weeks have been hectic around our house. With illness and not having very much energy and all the things I need to get done this time of year, it has been overwhelming some days.
I'm sure you can relate.
Since we were running low on a few items and Fred Meyer had a sale going on, I decided to try ClickList
I signed up for it about a year ago when one of the stores in our area offered it. But that store was 30 minutes away and I never tried it.
My First ClickList Grocery Haul
Fast forward and now a store within 10 minutes of our house offers ClickList shopping. I wish the one right down the street did too but maybe sometime soon.
It was a perfect location to pick up at since we had to go to the doctor that was right across the street. I did my shopping online the night before.
It didn't take too long either. Since they have a list of previously purchased items for me to pick from. I looked over my purchases in the past and picked what I needed.
I also looked for coupons, there is a checkbox you can check to add the coupon if there is a coupon available. Or you can add the coupon onto your loyalty card and those coupons will be applied. You can use paper coupons too, but I didn't have any for this trip.
I was able to fill my cart with what we needed in about 10 minutes.
I scheduled the pick up after our appointment, you choose a one hour window to pick up your items. Drove to the ClickList area and called the number.
In just a few minutes about 4, our groceries were brought out and loaded into the car and off we went. There was no taking sick kids into the store and waiting in the checkout line, it was so easy.
Here's what I purchased on this ClickList Grocery Haul in a quick video,
Best Buys of this Trip
Half Gallon Milk $.99
Bread $.89
Cookies $1.99 each – $.70/2 digital coupon, final price $1.64 each
Tortilla Chips $1.24 – $40/1 digital coupon, final price $.83
18 count Large Eggs $2.04
Total spent on this shopping trip $40.05 I also saved $1.75 by using e-coupons and submitting my receipt with Ibotta. Yes, you can use Ibotta too.
A few Questions Answered About ClickList…
What's the cost of using ClickList?
The first three trips are free to use ClickList. Since this was my first time, the $4.95 fee was waived.
Will I Be Using ClickList Regularly?
When we are sick or so busy it's hard to get out to the store to shop, yes I will use it. When time is tight the $4.95 charge can save me easily an hour or more and that's worth it to me.
I think it's best to use ClickList when you are purchasing a full weeks worth of groceries. A lot of my trips to Fred Meyer are less than $20, for those trips it doesn't really make sense to use ClickList. Since you pay a $4.95 fee no matter what size your list is.
But for a week's worth of groceries like $70-$100 it makes sense. Since you will be saving more time.
I'm pretty cheap by default but it was so nice to be able to shop online and then pick it up when we were all sick. Not to mention we didn't expose a bunch more people in the store either.
One Thing to Remember…
You can't pay cash when you shop with ClickList. You need to use a credit or debit card. Just something to remember if you shop with cash like I do.
Maybe sometime in the future, we will be able to pay with cash when we pick up. But for now, I'm happy to pay online as it won't replace my usual shopping trips each week.
That's my grocery haul for this week and my experience with ClickList.
If you have ClickList available near you, have you tried it? What did you think and will you use it again? Let me know in the comments below.

Love to Coupon Shop? Print your coupons before you shop….
Grab a few Printable Coupons 
Find the printable Red Plum Coupons
Print the SmartSource Coupons
SaveSave
SaveSave
SaveSave