I went to Everday Deals and they did not have very much for veggies this week. But I was able to get some other good buys. Here is what I found: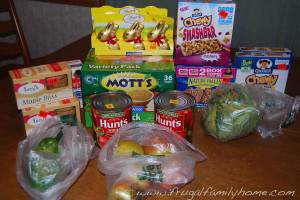 Apples $.39/lb $.74
Ding Dongs $1.59 each (we really did not need these but they looked good)
6 boxes of granola bars $1 each (we were almost out of these so I am glad to get them)
2 boxes of Lucy's Maple Bliss Cookies gluten free $1 each
36 pack of Mott's Applesauce $3
2 cans Hunt's Tomatoes $.79 each
3 green peppers $1
1 head of cabbage $.39/lb $.73
2 Lindt's 3 pkg chocolate bunnies (again I did a impulse buy) $.50 each
My total spent for this trip was $17.64
I really did not look around too much this trip. So I will probably go back this weekend to see if they have any good buys on more veggies for this up coming week,.