I decided to go to Everyday Deals since I was going to the bread store and they are right across the street from one another. I was mainly looking to get some fruits and veggies as I did my big shopping trip at Winco this week. They had a nice selection of produce this week. This is not always true as they are a closeout store. We were also almost out of granola bars and my husband likes to take them in his lunch so I was glad to see they had some of those too.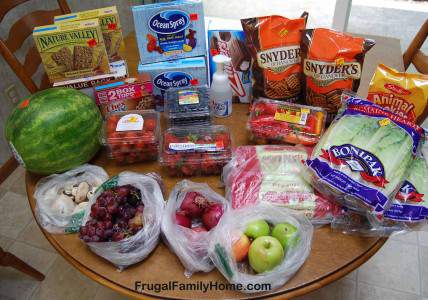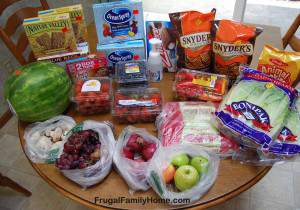 Here is what I found.
2 pkgs of Romaine hearts $.50 each
2 pkgs  of Cherry Tomatoes $.50 each
3 pkgs of Blueberries $.33 each
2 pkgs of Organic Celery Hearts $.50 each
2 pkgs of Baby Bell Peppers $.50 each
3 boxes of Fruit Snacks $1 each
1 Watermelon $1.59 each
2 bags of Pretzels $.50 each
1 bag of Peanut Butter Animal Cookies $.79 each
1 lb Strawberries $1each
5 boxes of granola bars $1 to $1.59 each
1 box of Zinger $1.59 each
1 Container of Foaming Hand Sanitizer $1 each
Mushrooms $1/lb $.26
Grapes $.49/lb $.95
Red Onions $.25/lb $.30
Apples $.39/lb $.43
 For a total spent $23.09

Other items they had: 
Artichokes $1/3
Sugar Snap Peas $.39/lb
Bags of Salad $.50 each
Organic yellow squash $1/6
Cabbage $.39/lb
Milk $2.79 gallon
Tomato Paste $1/3
Pepperidge Farm Cookies $1 each
5 lb Red Vines $4.79
Organic California Blend Veggies $1/2
Organic Lemonade Frozen Concentrate $1/2
I think that is about it for this trip. How did your shopping go?
[signoff]