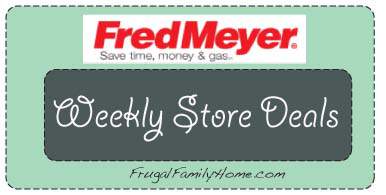 Fred Meyer this week has a pretty good deal on chicken, along with quite a few produce deals too.
Produce
Lettuce Red, Green, Romaine or Butter $1 each
Green Onion or Radishes $.39/lb
Celery $.49/lb
Organic Cucumbers or Green Peppers $.88 each
Meat and Dairy
Foster Farms Whole Fryers $.88/lb
Wild Caught Alaska True Cod $4.99/lb
Tillamook shredded Cheese $1.25 each
Silk Fruit and Protein $1.99
Use $1/1 coupon
Pay $.99 each
Groceries
Fred Meyer Water 24 pkg $1.99 with in ad coupon (limit 2)
Fred Meyer Canned Vegetables $.50 each with in ad coupon (limit 10 )
Cheerios $1.67 each with in ad coupon (limit 3)
$1.10/2 coupon for Cheerios
$1/2 coupon Cheerios
$1/3 coupon 9/9SS
Pay as low as $1.12 each
Yoplait Yogurt Cups $.50 each
Use $.40/6 coupon
Or use $.40/6 coupon 9/9SS
Pay $.43 each 
VO5 Shampoo or Conditioners $.79 with in ad coupon (limit 4)
Some of the links in this post are my referral links. You can read my disclosure policy here.