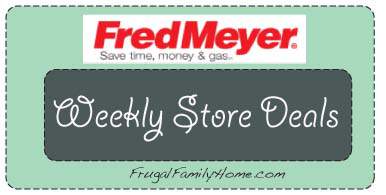 This week at Fred Meyer Crest toothpaste is on sale. You can get a Pure Protein Bar for free and Pork chops are on sale.
On Sunday October 7 and Monday October 8 Clearance Apparel will be 70% off. So if you are shopping one of these days be sure to check the clearance racks. You maybe be able to score a really good deal.
Produce
Kiwi $1/3
Pumpkins for Carving $.18/lb
Meat and Dairy
Foster Farms Whole Fryers $1.18/lb
Assorted Pork Loin Chops $1.97/lb
Tillamook Butter 1-lb $2.50
Fred Meyer Yogurt $.30 each with in ad coupon (limit 10 )
Grocery
Palmer Halloween Candy 9oz $1 each
Brown and Serve Sausage or Banquet Meals $.88 each

Dawn Dish Detergent $1 each
Use $.50/1 Homemade Simple Booklet
Pay $.50 each 
Nabisco Snack Crackers $2 each
Use $1/2 coupon
Pay $1.50 each 
Fred Meyer canned tomatoes or beans $.50 each with in ad coupon (limit 6)
Mars Fun Sized Candy $1.99 each with in ad coupon (limit 2)
$1/2 M&M's coupon 8/26RP
Pay $1.49 each
Nestle Fun Size Candy $2.50 each
Use$1.50 off  TWO bags of NESTLÉ® fun size or Halloween candy
Pay $1.75 each
Pure Protein Bars $1
Use $1/1 coupon
Free
(Thanks, The Coupon Project) 
Lay's Stacks or Quaker Rice Cakes $1 each
Crest Toothpaste $1 each
Use $.50/1 coupon 9/30PG
Pay $.50 each 
 Toy Sale
FurReal Dizzy Dancers on sale B1G1 Free
Use $3/1 coupon
Pay ???
Spider-Man Hero Mask Buy 2 Get 1 Free
Use (2) $3/1 coupon
Pay ???Barbie or Kawasaki Tough Trike $14.99
All Polly Pocket $3.99 each
Nerf Barricade RV-10 or Vortex Praxis Blaster $9.99 to $14.99

This post contains my referral links. You can read my disclosure policy here.