Struggling with
What to Cook for Dinner?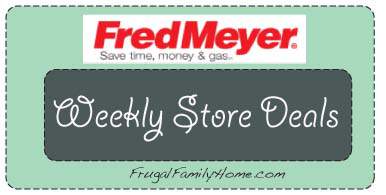 This week at Fred Meyer they have deals on:
Meats
Foster Farm Split Chicken Breasts $1.28/lb (not a great price but if you need some)
Foster Farm Whole Fryers $.99/lb
Hillshire Farm Smoked Sausage $2.50 each with in ad coupon (limit 4)
Use $.55/1 coupon 7/8SS
Pay $1.95 each
Produce
2lbs Blueberries $4.88
Rainer Cherries $2.98/lb
Walla Walla Sweet Onions $.78/lb
Dairy
Fred Meyer Milk or Orange Juice $1 each (limit 10) with in ad coupon
Fred Meyer Butter $1.67 each with in ad coupon (limit 3)
Kroger Cheese 6-8oz Slices, Bars or Shredded $1.50 each with in ad coupon (limit 6)
Fred Meyer large eggs $.99/dozen with in ad coupon (limit 3)
Yoplait yogurt $.50 each
Use $40/6 coupon
Pay $.44 each
Grocery
Fred Meyer Charcoal $4.99 each
Fred Meyer spring water 24pkg $1.99 each limit (2)
Buy 10 Items (mix or match) Save $5 instantly
Kraft Mayo or Miracle Whip $2.49 wyb 10
Use $.25/1 coupon 6/17ss
Pay$2.24 each
Welch's Grape Juice $1.99 wyb 10
Use $.75/1 coupon 6/24RP
Pay $1.24 each
2Liter Pepsi $.99 each wyb 10
Quaker Chewy Dips granola bars $1.79 wyb 10
Health and Beauty
Old Spice or Secret Deodorant $1.79 with in ad coupon
Caltrate Supplement $6.99 with in ad coupon
Use $2/1 coupon 5/13RP
Pay $4.99
This post contains my referral link. You can see my disclosure policy here.