Struggling with
What to Cook for Dinner?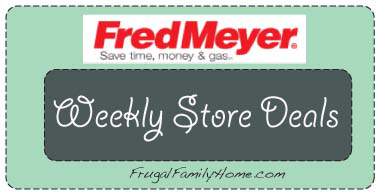 This week at Fred Meyer Tillamook yogurt is on sale along with strawberries and Petite Sirloin Steaks.
Here's the deals I found,
Produce
2-lb Strawberries $2.99 each
Hass Avocados $.69 each
Blackberries $2 each
Mangos $1 each
Organic Kale, Collards or Chard $2 each
Red Garnet or Beauregard Yams $.69/lb
Roma Tomatoes $.88/lb
Romaine, Butter, Red or Green Leaf Lettuce $1 each
5-lb Bag Fuji Apples $3.99 each
Organic Russet Potatoes $.88/lb
Organic Navel Oranges $.98/lb
Meat
Boneless Petite Sirloin Steak $3.88/lb
Foster Farms Split Chicken Breast $1.59/lb
Boneless Bottom Round Roast $3.99/lb
Boneless Pork Top Loin Chops $3.88/lb with in ad coupon (limit 3 packages)
Grocery
Kroger Cheese 6-8 oz or 16 ct Slices $1.67 each
Tillamook Yogurt $.40 each with in ad coupon (limit 10 )
Skippy Peanut Butter $2 each
Doritos or Ruffles $2.50 each
Prego Pasta Sauce $2 each
Use $.75/2 coupon 3/3 SS
Pay $1.83 each
Hormel Lunchmeat $3 each
Use $1.00 off 2 HORMEL NATURAL CHOICE products
Pay $2.50 each
ACT Mouthrinse $5.74 each
Use $.75/1 manufacture coupon in store
or SAVE $1.00 On any 16.9oz or Larger ACT® Mouthwash or Mouthrinse
Pay as low as $4.74
Hunt's Snack Pack $1 each
Betty Crocker Fruit Snacks $2.50 each
Use $.50/2 coupon 2/24 SS
or $0.60/2 Betty Crocker Fruit Shapes, Fruit By The Foot, Fruit Gushers, Fruit Roll-Ups, Fruit Flavored Snacks, Ocean Spray Fruit Flavored Snacks, Mott's Fruit Flavored Snacks or Sunkist Fruit Flavored Snacks printable
Pay as low as $2.20 each
V8 or V8 Fusion $2.29
Use $0.75/2 V8 100% Vegetable Juice printable
Pay $1.92 each
Fred Meyer English Muffins $1.25 each
Fred Meyer Dressing $1.50 each
Simple Truth Organic Soymilk $2.50 each
Dial Soap $3.33 each with in ad coupon (limit 3)
Tums $3.99 each with in ad coupon (limit 2)
Use $1.50/2 Tums product, 3/24 RP
or $1/1 Tums Product printable
Pay $2.99 each
Other Deals
Kroger Vitamins or Supplements B1G1 Free
Misses or Junior Tee, Tanks and Camis $7.99 each
Boys' and Girls' Tees and Camis $5.99 each
Flowering Annuals 4″ Pot $1.20 each
Dianthus 4″ Pot $.59 each
18 inch Resin Planter $14.99 each
Hostas or Ferns $3 each
Perennials 4″ Pots $2.50 each
Bonus Coupons
15% off Apparel, Shoes and Accessories
10% off Housewares and Home Fashion
Disclosure: some of the links in this post are my referral links.