Struggling with
What to Cook for Dinner?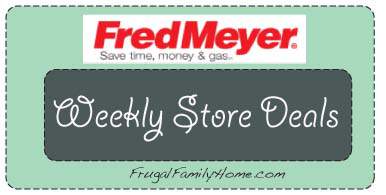 This week at Fred Meyer there is milk on sale, chicken at a fair price, cantaloupe, peanut butter and yogurt.
Here are the deals,
Produce
Cantaloupe $.25/lb
Pears, Anjou, Bartlett, Bosc $.98/lb
Cauliflower $.88/lb
Broccoli $.88/lb
Meats and Dairy
Boneless Skinless Chicken Breasts $2.48/lb
Wild Alaska Whole Salmon $4.99/lb
Fred Meyer Milk or Orange Juice $1.25 each (limit 8 )
Simple Truth Organic Soymilk $2.50 each 
Oikos Yogurt $1 each
Use $.50/3 coupon 8/12SS
Pay $.83 each
Yoplait Yogurt $.50 each
Use $.40/6 coupon
Or Use $.50/8 coupon 9/9SS
Pay $.43 each
Grocery
Fred Meyer Peanut Butter $1.50 each with in ad coupon (limit 4)
Fred Meyer English Muffins $1
Chicken of the Sea $.59 with in ad coupon (limit 4)
Lay's Potato Chips $1.88 with in ad coupon (limit 2)
Hunt's Snack Pack Pudding $1 each
Buy 3 Get 1 Free coupon 9/16SS (regional coupon)
Pay $.75 each
Campbell's Chunky Soup $1 with in ad coupon (limit 10 )
Use $.50/2 coupon 9/9SS or here
Pay $.75 each
Hormel Dinners $4.99 with in ad coupon (limit 3)
Use $1/1 coupon 8/19SS
Use $1/1 coupon 
Pay $3.99 each
Michelina's Entrees $.88 each
Use $1/5 coupon
Pay $.68 each 
This post contains my referral links. You can read my disclosure policy here.