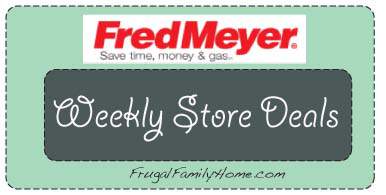 This week is the anniversary sale. So there are quite a few good buys this week. Here is what I found.
Produce
Organic Apples or Pears $.98/lb
Golden Pineapple $2 each
Pomegranate $2 each
Strawberries 1-lb package $2 each
Hass Avocados $.99 each
Bell Peppers $.99 each
Meat
Boneless Skinless Chicken Breast $1.88/lb
Boneless Petite Sirloin Steaks $2.99/lb
Wild Alaskan Whole Sockeye Salmon or Cod $3.99/lb
Dairy
Fred Meyer half-gallon milk $1.25 each with in ad coupon (limit 8 )
Tillamook Medium Cheddar Cheese $3.99 with in ad coupon (limit 2)
Tillamook Yogurt $.40 each
Grocery
Gevalia Coffee $5.99 each
Use $1.50/2 coupon 9/23 SS or $1/1 coupon
Pay as low as $5.24 each
Skippy Peanut Butter $1.88 each
Use $.50/2 coupon
Pay $1.63 each
Oscar Mayer Deli Fresh Lunchmeat or Beef Ranks $2.50 each
General Mills Cereal $1.88 (limit 4)
Use $.50/1 Cheerios 9/23 SS
$1/3 coupon 10/7 GM
$.50/1 Honey Nut Cheerios
$.75/1 Multi-Grain Cheerios
Pay as low as $1.13 each
Brach's Candy Corn $1.00 a bag
Skittles or Starburst Bagged Candy $2.50 each
Use $1/2 coupon 10/7 RP
Pay $2 each
This post contains my referral links. Please see my disclosure policy.